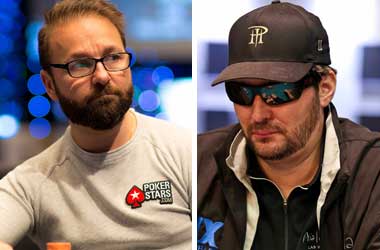 Another massive heads-up match is set to happen this year.
This time around it will be between Daniel Negreanu and Phil Hellmuth, two of the biggest names in the world of poker. The pair will face each other on High Stakes Feud, a show on PokerGo.
It all started when Hellmuth disapproved of Negreanu's strategy during his grudge match with Doug Polk.
The Poker Brat was betting on Negreanu to win but ended up being disappointed at the Canadian's performance.
He shared his thoughts in an episode of PokerGo's No Gamble, No Future.
Negreanu countered by challenging Hellmuth to a heads-up match, and after a few days, Hellmuth agreed. But the upcoming battle will be different from the Polk vs. Negreanu match as it will take place at the PokerGo Studio in Las Vegas.
As part of the show's format, hole cards will be displayed for the viewers to see. The pair will battle it out in sit n go style, meaning they will only play up to a couple hundred hands, contrary to the 25,000 hands in the Polk vs. Negreanu match. A final date for the high stakes match has yet to be determined, but the excitement is already building up within the poker community.
The Pressure Is On Hellmuth
Negreanu isn't a fan of Hellmuth's play. The former all-time money leader is confident enough that he will win the match based on his interview on the same show where the Poker Brat criticized him. Negreanu said the match doesn't even require preparations on his end. He went on to say that Hellmuth will only be able to defeat him if he wins three or four flips in a row.
With these statements, Negreanu implied that Hellmuth barely has the chance to take down the match. The American poker pro also lacks a strong heads-up background; though he competed in the format several times in the past, it only involved small sample sizes.
Hellmuth is a 15-time World Series of Poker (WSOP) bracelet winner, but he isn't considered one of the best in heads-up poker. He claimed he had won 29 of his 30 latest heads-up battles but he failed to mention who his opponents were. Meanwhile, Negreanu recently battled it out with one of the best heads-up players in the world, playing high-stakes NHL over a three-month period.
Since Hellmuth was the only person to criticize Negreanu's performance in the grudge match, the pressure is on him to prove that he is the better player. Hellmuth defeated Antonio Esfandiari on High Stakes Duel last year, but will he be able to do the same in his forthcoming match with Negreanu? That remains to be seen, but given Hellmuth's endless bragging about how good he is, losing to Negreanu will be a huge blow to his poker reputation.