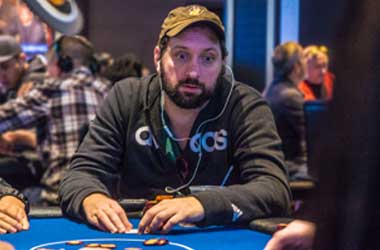 Summary
Luke Vrabel accused cancer patient Jami Lafay of being a scammer
Lafay set up a GoFundMe campaign to raise money for her medical bills
Twitter locked Vrabel's account for abusive behavior
Twitter has banned poker pro Luke "SlayAbides" Vrabel for abusive behavior. Vrabel who has a reputation for frequently attacking women on social media, was denied full access to his account after being reported by poker journalist Jennifer Newell.
Vrabel earlier clashed with Newell regarding the GoFundMe drive set up by cancer patient Jami Lafay who was accused by Vrabel of scamming the poker community.
Vrabel's Scammer Accusation Prompts Twitter Ban
Jami Lafay's cancer story has been the subject of debate on Twitter in recent days, with Todd Witteles, the founder of PokerFraudAlert.com, warning US poker fans and players not to fall for Lafay's false claims. Vrabel was among those agreeing with Witteles, telling the poker community that Lafay was making up stories to scam people out of tens of thousands of dollars.
If someone creates a gofundme asking the poker community for big $, and lies about several major things while doing so, I will point it out.

That's what I have done, and will continue in the future.

Everyone should have the info to make informed decisions with their own money.

— Todd Witteles (@ToddWitteles) February 23, 2023
Lafay set up the fundraising drive to collect $50,000 for her medical bills, but there are claims she may be faking things out to recover her gambling losses. Lafay has strongly denied the accusations thrown against her, and while some went on to attack her for allegedly deceiving the community, many came to her defense, including Newell who donated to the GoFundMe drive.
Poker pro Nadya Magnus also junked Witteles' claims, saying she personally saw Lafay's medical records showing that she has cancer. The documents were provided by Lafay herself upon Magnus's request.
1/ In the light of recent discoveries presented by @ToddWitteles and @PokerCookieM I asked @LafayJami for her medical records which were provided by her immediately. My intention was to have our family friend, an oncologist with great experience to review the records to give his

— Nadya Magnus (@NadyaKGB) February 22, 2023
Newell reported Vrabel's account for abusive behavior and after reviewing her report, Twitter locked Vrabel's profile, prohibiting him from tweeting, retweeting, or liking content. The social media platform also said it had earlier received multiple complaints about Vrabel's behavior and if he continues to break the rules, he might get his account suspended.
Even Vrabel's female friends aren't immune to his offensive remarks, with @thegroupie revealing that the poker player also attacked and name-called her. Vrabel blocked her on Twitter, the same thing he did to many other people who criticized him for his behavior.
WSOP Banned Vrabel for 5 Years
Vrabel was previously banned from the World Series of Poker (WSOP) and all Caesars Entertainment venues after an altercation at the Colossus event in 2017. Vrabel went on to finish in 9th place for $80,000 but following the ban, he stated that he would never play at the WSOP again.
The ban went lasted for five years and Vrabel only returned to the WSOP in 2022.