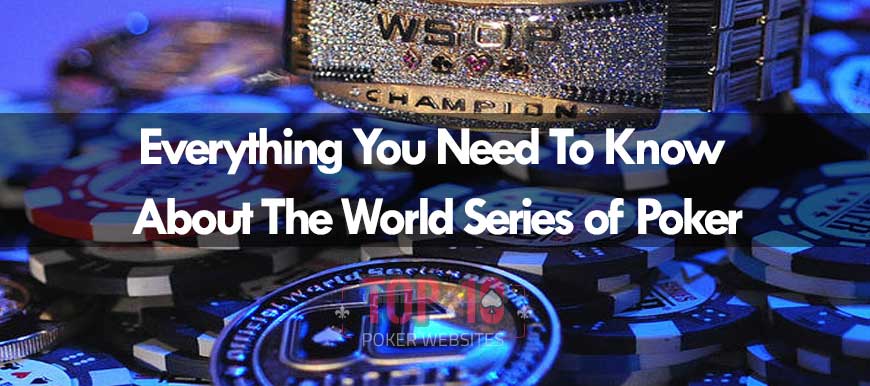 A pair of twos is what it took for New Jersey rookie to win the $8.1 million pot at the 2017 World Series of Poker. The lucky man was 25 year old Scott Blumstein who was a first time at the event held in Las Vegas's Rio hotel. A two of diamonds is what Blumstein had in his hand at the no-limit Texas Hold'em main event when a two of hearts appeared as the community hand's last card, leading to this life changing win.
The best thing about the event is that anyone can have a shot as long as they pay the entry fee. The event rose from humble beginnings to a mega global affair attracting thousands of players. While it culminates in the $10,000 buy-in Main Event in Las Vegas, this is only a part of the WSOP. As the name suggests, it is a series of events or tournaments held every year in different formats.
History of the WSOP
The WSOP was first held in 1970 with the objective of spreading awareness of the game. This was initially an invite-only event with the famous gambler Benny Binion at the helm of affairs. The first event saw only seven players in action while the following year the $5,000 buy-in attracted only six players even though it was converted to a public format.
Johnny Moss was won the inaugural event that was attended by Doyle Brunson, Amarillo 'Slim' Preston and Carl Cannon, to name a few. The winner was determined through voting although the traditional freeze-out style tournament kicked off in 1971. The buy-in was raised to $10,000 in 1972 and has remained so. The gold bracelets that we see today were introduced in 1976.
The 'Moneymaker effect'
The number of participants rose significantly in the 2000s with Chris Moneymaker wining the 2003 WSOP. This heralded the start of satellite tournaments. The 27 year old earned a seat to the Main Event in 2003 via satellite tournaments on PokerStars. These tournaments offer players the chance to play smaller buy-in tournaments as small as $0.01 and win a seat to larger buy-in tournaments.
For players, step tournaments are the ideal way to earn a seat for as little as $25. For example, a player who wishes to play in the $10,000 Main Event but doesn't want to put up that money, can run smaller satellite for around 100 people with $25 buy-ins and win a seat to a $500 satellite.
The next step would be to win that and play the $10,000 WSOP Main Event for as little as $25. Chris Moneymaker was amateur who did just that and eventually ended up with $2.5 million. The 2016 Main Event had as many as 6,737 players, which is attributed to Moneymaker who literally showed others the way.
A few WSOP facts
Now, getting there is a tough exercise and all those who wish to sign up ought to be aware of a few facts.
Players must be 21 years or older to be eligible to enter
Players have the option to select games they wish to join. To begin with, there are several choices given that the 69 events have different variations. There are games using Omaha, Stud, Lowball and Texas Hold'Em rules.
There are several tournaments where the main goal of each player is to be the last one standing. Even a small bankroll can be boosted significantly with skillful play and careful management.
Players can participate in statellite tournaments to win a seat to the Main Event or simply buy-in with $10,000.
The Main Event usually begins in July. The chips that players receive cannot be exchanged for cash but is an indicator of whether a player is still in the tournament. A player is eliminated once he or she runs of out chips.
The buy-in is added to the prize pool which is distributed to players that finish at the top. 10% receive a payout which is around a 100 players since the Main Event usually has in excess of a 1,000 players.
Players are grouped in tables at the Main Event, and move from table to table as players begin to get eliminated. Normal play resumes when there are nine players at a single table, who will move on to play the last table of the Main Event.
Types of Events
Bracelet Events: The 2017 WSOP saw a record number of 74 bracelet events given to winners to commemorate their victory. Multiple bracelet events are played every day with the 74th bracelet being a $1,111 buy-in, The Little One for One Drop. This starts when the Main Event is in progress. Texas Hold'Em is a popular game although there are several variations, including format variations to make way for more tournaments. Some bracelet events are played online at WSOP.com.
$10,000 Main Event: This is the most prestigious events of the WSOP that has all the media attention. The first place is usually worth $5 million while every player who made it to the final table is guaranteed a $1 million payout. The buy-in is $10,000 while players get 50,000 in chips to start.
$50,000 Poker Player Championship: This is one of the closely watched and prestigious events played in a mixed game format with one of the biggest buy-ins. These events are where players can showcase their skills in not just Texas Hold'Em but all variations of poker. Games include No-Limit Hold'Em, Omaha hi-lo eight-or-better, pot limit Omaha, razz, Seven Card Stud hi-lo or eight-or-better, limit Hold'Em, and 2-7 Lowball triple draw. The winner also receives the David 'Chip' Reese Memorial Trophy.
The Colossus: This event became one of the largest poker tournaments in history where players get a chance to win a WSOP bracelet with a $565 buy-in. As many as 21,000 players participate in the event, given the low buy-in compared to some of the other events.
The Giant: A new bracelet event, 'The Giant' was introduced in 2017 with a flight held on five consecutive Fridays. This event has a $365 buy-in and 20,000 in starting chips with unlimited entries in each flight. Players who get through each flight fight it out for the bracelet.
Online Events: WSOP.com hosts three bracelet events with buy-ins of $333, $1,000 and $3,333. Players in Nevada, New Jersey and Delaware are allowed to participate in these events since online gambling is legal within these state boundaries.
$111,111 High Roller for One Drop: This is truly for high rollers with a $1 million buy-in. The event attracted as many as 183 entries in 2016 with the winner taking home as much as $5 million.
Satellites: There are $185 satellites held by WSOP every day at 9am. Winners receive $1,500 in buy-in chips and $100 in cash. Each night the $575 satellite awards $5,000 in buy-in chips and $50 in cash.
The Millionaire Maker: This is a popular event that comes with a $1,500 buy-in in which the winner walks home with a million. As many as 6,000 or more players usually compete in this event.
There are many more events such as The Marathon, a $2,620 no-limit Hold'Em tournament, Tag Team events, Ladies Event, Senior Events, and more. If you are planning to go the distance then we wish you all the best in reaching the final table.