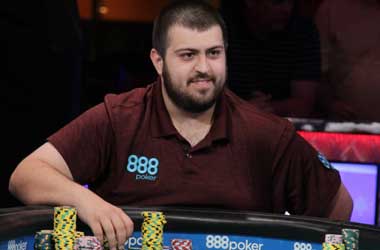 In July 2017, 25-year-old Scott Blumstein carved his name in poker history after winning his first final table at the 2017 World Series of Poker (WSOP) Main Event.
He was able to best more than 7,200 poker players—pro and casual—and went home with the WSOP gold bracelet and $8.1 million in winnings.
Winning the WSOP is considered the pinnacle in a poker player's career and WSOP champions usually end up playing a lot of high stake events to see if they can ride their wave of success.
Blumstein has kept a rather low profile after his WSOP Main Event win and recently said that he is contemplating his future in the live tournament scene and is considering walking away from poker and pursuing other interests.
Before the 2017 WSOP, Blumstein's biggest win was at the $560 No Limit Hold'em event at the 2016 Borgata Summer Poker Open. According to Blumstein, winning nearly $200,000 from the event gave him courage to continue pursuing his poker career and try his luck at the 2017 WSOP. He admits that that he pursued poker only to pay his bills as he was struggling to find a job.
Since his historical 2017 WSOP win, Blumstein has cashed in at two small events this year. He was able to cash in at the $3,500 buy-in WPT Borgata Poker Open in September and finished 9th place in a $1,100 buy-in event at the WPT Maryland Live! in October. Blumstein has deliberately stayed away from high stake poker games as he wants to be careful on how he spends his money. These high stake games also don't appeal to him because he realizes that the competition is fierce and it is very difficult to win.
He was very candid in a recent interview and admitted that after winning the WSOP Main Event, there was nothing left for him to achieve on the poker circuit and believes that in a sense he has beat poker.
In a statement, Blumstein said,
There's higher stakes, and other tournaments, but it's not really appealing to me…I could travel around and grind the tournament circuit, but winning the main event is kind of new so I'm deciding if I want to go that route or get into something else.
The young poker pro has also a few tips for poker pros that are looking to follow in his footsteps and win big money. He advises players to play within their means and focus on winning consistently even if its small cashouts instead of focusing on the big win.