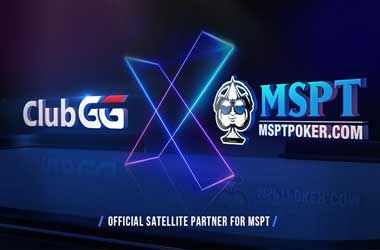 Summary
ClubGG has been appointed as the official satellite partner for the MSPT
GGPoker app ClubGG will now run satellites for live MSPT events
ClubGG players get the chance to enter MSPT events taking place across the US for a lesser price
ClubGG has been named as the official satellite partner of the Mid-States Poker Tour (MSPT).
As part of the new link-up, ClubGG will play host to online satellite tournaments which will give players the chance to qualify for live MSPT events for a fraction of the price. ClubGG is being run by GGPoker and is available in several jurisdictions where the online poker site has yet to go live, including the US.
ClubGG and MSPT began their partnership in 2021 when players at the app were awarded more than $200,000 worth of MSPT Main Event tickets. Going forward, there will be more MSPT tournament seats up for grabs for ClubGG players, with over $33,000 worth of tickets to be given away every month. That means players will receive at least $700,000 worth of tournament tickets each year.
ClubGG Attracting More Players
ClubGG's customer base is continuing to grow and that's because of the plenty of opportunities it offers to players, not to mention that it is associated with one of the world's leading real money online poker sites.
Players who join the club only need to pay an affordable monthly subscription fee of $49.99. That gives them full access to tons of satellite tournaments where they can win tickets to different live events, including the World Series of Poker (WSOP).
Among the players who took advantage of ClubGG's satellite offering was Vasu Amarapu. He qualified for the 2021 WSOP Main Event through a ClubGG satellite and ultimately finished in 13th place in the prestigious tournament for $470,000.
Players Can Choose which MSPT Event to Play
Those eager to win their way into the MSPT for a cheaper price should consider signing up with ClubGG. They will only be required to pay the $49.99 monthly fee – no extra charges and hidden fees when they enter any satellite tournament.
Those who are awarded MSPT seats can also now select which MSPT event they'd like to play, which is great. MSPT President said they're delighted to continue their partnership with ClubGG, allowing more players to compete for life-changing prizes.
The MSPT will host an event at Grand Falls Casino in Sioux Falls, South Dakota on August 19. It will then head over to the Venetian in Las Vegas on September 3. The tour will also visit the Sycuan Casino in San Diego next month, with four more Main Events set to take place throughout the US before the year ends.