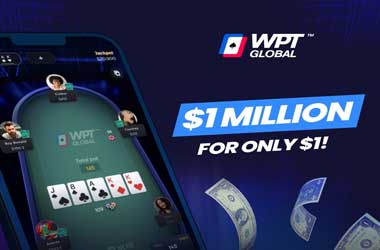 Summary
Day 2 of the $1 For $1 Million tournament was set to take place on August 21
It has now been postponed to October 1, with the final table taking place on October 2
WPT Global said it wanted to give as many players as possible the chance to enter the tournament
WPT Global is currently running its first tournament series which kicked off on July 20.
The real money online poker site, which launched just this year, made sure its first festival offering would be huge and memorable by running big events that offer great value to players. The "Summer Festival" comes with a guarantee of $3.5 million spread out across 50 tournaments.
Understandably, just like any other new operator that is still starting to gather steam, WPT Global did not quite attract the numbers for certain tournaments, with some suffering huge overlays. Among them was the $1 For $1 Million tournament.
$1 For $1 Million Day 2 to Take Place on October 1
The tournament, which gives players the chance to win a share of $1 million in total prizes for a tiny investment of only $1, got underway on July 20, featuring multiple flights. Players who survived the Day 1 flights were supposed to combine and resume the action on August 21 for Day 2 of the tournament. However, WPT Global decided to push it back to October.
Instead of August 21, Day 2 has been rescheduled for October 1, and the final table will now take place the following day, October 2, as stated in an official announcement from the operator.
The last-minute changes came as a surprise to many and raised some eyebrows, with speculations WPT Global could have made the decision to somehow reduce the overlay which is expected to reach more than $900,000. But the operator said that wasn't the intention.
WPT Global explained the reason for moving the Day 2 action to October, and that is to allow as many players as possible to participate in the tournament and take a shot at the seven-figure prize pool. With Day 1s now extended, players who missed out on or didn't make it during the initial flights have more chances of securing a Day 2 seat.
Players Who Already Qualified to Get Main Event Tickets
WPT Global understands that the changes may cause some inconvenience to players who have already qualified especially those who have tight schedules.
To make up for that, the site will give away a $330 Main Event ticket to every player who made it to Day 2 before the operator decided to postpone the action to October. The Main Event also comes with $1 million in guaranteed prize money.