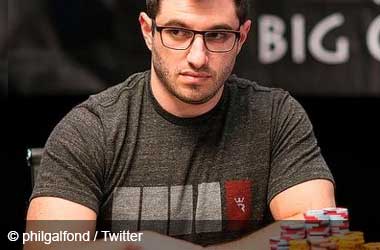 Summary
A poker dealer accepted Galfond's challenge in a $50/$100 PLO game on WSOP.com
The challenger shared that the $20K max buy-in was the highest he has ever played
Galfond was impressed with his opponent who ended the session after earning a profit of over $7K
How does it feel to get out of your comfort zone and battle it out with one of the best poker players in the world in a game he has dominated for more than a decade? Well, a poker dealer just had the experience of his life after competing in an online heads-up PLO match against PLO legend Phil Galfond.
The player, who uses the alias "ChristIsLord" on WSOP.com, shared the great experience in a YouTube video, describing it as the biggest poker game of his life. He competed against Galfond in a $50/$100 PLO game, putting in $20,000 in total, equivalent to two buy-ins.
The player, who runs the "ZefaPoker" YouTube channel, is not used to playing poker at such high level as all his life, he has only been playing low-stakes games. It certainly was a huge challenge for him, not to mention that he was up against a poker pro who is widely considered a PLO beast.
It all started when Galfond posted on Twitter that he was on the lookout for a challenger in $10K and $20K PLO. At that time, the Run It Once (RIO) founder was preparing to compete in a WSOP online bracelet event. While he was streaming some action on WSOP.com on the same day, a player turned up at the PLO table he was in, and it turned out to be "ChristIsLord".
Hey, friends. Going live with some online #WSOP Bracelet hunting shortly! Also sitting alone at $10k and $20k PLO in case anyone wants to take advantage of a distracted streamer.

Come hang out!https://t.co/Cyblkz0DHJ

— Phil Galfond (@PhilGalfond) July 17, 2022
Galfond Ends Up Losing More Than $7K
The screen name sounded new to Galfond as he had never encountered that player before. That's an expected reaction given that "ChristIsLord" wasn't really into high-stakes games prior to his match with Galfond.
The challenger sold off 37% of the $20K ($10K for each game) he planned to spend for the big match, meaning he'd be willing to take $12,600 out of his own pocket to face Galfond.
"ChristIsLord", who is also a poker dealer, was no easy opponent for Galfond. The three-time WSOP bracelet winner was impressed with how his opponent played, especially during one hand where he got value-owned, though he also acknowledged that "ChristIsLord" could still improve his skills.
The player decided to conclude his sessions against Galfond after earning $7,461 in total profits. It turned out that he had set a stop-loss and stop-win limit for the match and he informed Galfond about it. The American poker pro responded by saying he appreciated the action and that "ChristIsLord" did a great job.