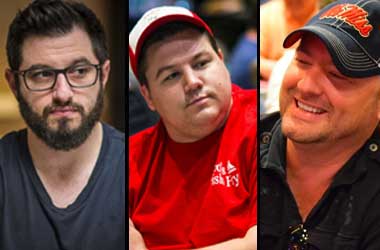 After it was confirmed that majority of the plaintiffs in the Mike Postle cheating case agreed to a settlement with Stones Gambling Hall and Justin Kuraitis, most people expected the matter to be put to rest.
Things looked to be over and done with following an acknowledgement from the complainants' side that they found no evidence that Kuraitis and Stones were in any way involved in alleged cheating.
However, a recent social media storm suggests the case could be far from over.
When initial details of the settlement came to light last week, Kuraitis, who was widely believed to be Mike Postle's internal accomplice at Stones, penned a lengthy letter condemning the poker community for believing in a "propaganda machine" that led to hate, rage, and violent threats against him and his co-defendants.
In the four-page letter which he shared on Twitter, Kuraitis specifically took aim at Joey Ingram and Veronica Brill for peddling "false" stories that damaged his reputation, and it didn't stop there. The former Stones Tournament Director continued to goad the poker community in the following days, lambasting anyone who still accuse them of cheating.
There are some things I've wanted to say for a while now@Joeingram1 @Angry_Polak @DougPolkVids @mac_verstandig @Mike_Postle @MarleCordeiro @RealKidPoker @StonesLivePoker @notthefakeSVP @RounderLife @haralabob @espn @barstoolsports @kirkrexfordhttps://t.co/2FERsqGoFJ

— Justin Kuraitis (@JFKPokerTD) September 15, 2020
Galfond Triggered By Kuraitis' Taunting Replies
Several high-profile poker pros took offense at Kuraitis' apparent "victory lap", and now some of them are pledging to reopen the case and launch their own investigation into the matter. Three-time World Series of Poker (WSOP) bracelet winner Phil Galfond were among those who were obviously appalled at Stones and Kuraitis' insulting tweets.
The Run It Once founder has vowed to compile all hand histories of Postle's cash game sessions at Stones and come up with a detailed report to find out whether or not Postle actually cheated.
Postle's incredible win rate led the poker community to conclude that he cheated, but Galfond believes other statistical data need to be taken into account to find evidence. In his own investigation, Galfond will focus more on how often Postle won and lost in his plays by analyzing different scenarios, such as river bluff success rate (bet), river bluff success rate (raise), river call efficiency, bet percentage on river with hands that chop, preflop four-bet frequency, etc.
American poker pro Bart Hanson also released his own take on the scandal after investigating a collection of 20 previously unanalyzed hands, but Kuraitis was quick to dismiss it as simply "cherrypicking".
If you didn't make it to the "Here's my take" segment at 56 min into the video today .. "Show me a hand!" @Mike_Postle @rounderlife

And also my thoughts on @JFKPokerTD pic.twitter.com/qZM942Hk0v

— Bart Hanson (@BartHanson) September 19, 2020
Former WSOP POY Shaun Deeb also came into the picture, saying he's considering starting a fundraising campaign to help with the new investigation.
A lot of exciting details could come out in the weeks and months ahead, which means Postle, Stones, and Kuraitis aren't officially off the hook just yet.