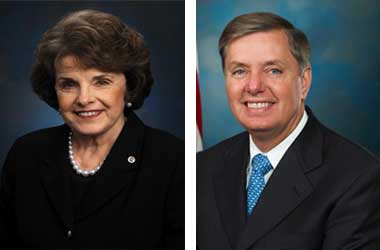 There are a number of U.S legislators who are not happy that online gambling is gaining momentum in the country. Two of those senators have decided to put pressure on the Trump Administration to pressurize the Department of Justice (DOJ) to clamp down on the online gambling industry.
Senators Dianne Feinstein from California and Lindsey Graham from South Carolina sent a letter dated November 21 to the DOJ and asked the department to repeal its 2011 legal opinion on the 1961 Wire Act. In summary, the letter calls for the DOJ to reverse its interpretation that have since allowed states to introduce and legalize online gaming services in their jurisdictions.
Both Feinstein and Graham have been staunch lobbyists of the Restoration of America's Wire Act Bill they introduced in the Senate in 2015. The legislation seeks to rewrite the Federal Wire Act to include in its ban most forms of online gambling, since the 2011 legal opinion made by the DOJ on the Wire Act found that the 1961 legislation only banned sports betting in the US states, and not other forms of online gambling such as online poker and lotteries.
The 2011 legal opinion paved the way for US states to make the decision on whether to legalize online gaming or maintain a ban. Pennsylvania took advantage of that bill in October and decided to legalize online gambling throughout the state. Pennsylvania now joins Nevada, Delaware, and New Jersey as the only states to offer online gambling in the America.
Feinstein and Graham specifically called out Pennsylvania's decision as the spark that could start the fire in the spread of online gaming. In the letter, Feinstein and Graham said,
Internet gambling takes gambling too far. It preys on children and society's most vulnerable. Of particular concern to us…is whether the FBI has the resources to effectively oversee a robust internet gambling industry to assure online casinos are not being used for criminal activities
Feinstein and Graham's letter was written just a few days before the US Supreme Court is set to hear arguments from New Jersey over their push to legalize sports betting. New Jersey is looking to overturn the Professional and Amateur Sports Protection Act of 1992 on the bas that is unconstitutional. A decision is expected during the first week of December and if New Jersey wins the case, it will pave the way for more states to legalize sports betting and online gaming will closely follow.