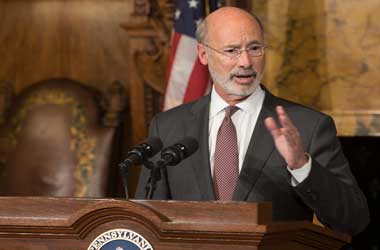 Gov. Tom Wolf has signed into fruition a new measure to expand gaming regulations in Pennsylvania, the second largest commercial casino state in the US.
After lawmakers approved the iGaming bill last week, Governor Wolf wasted no time and completed the finalization process by signing the bill on October 30.
State legislators have approved the new iGaming bill in a bid to boost state's revenue from new casino licensing fees and gaming taxes and bring the state's $32 billion budget into balance.
Although Wolf was hesitant at first about the gambling expansion, he now believes that casino revenues will be a good way to augment the state budget instead of increasing state tax.
CBS Pittsburgh
In a statement, Wolf said
There's been a lot of pressure from a lot of places in the commonwealth to actually expand this, and we do need some recurring revenue. Again, the goal has been all along to do what's prudent, not cannibalize existing gambling revenue coming to the state.
The new bill will authorize the expansion of casino-style gambling in Pennsylvania, joining Nevada, New Jersey, and Delaware to offer online gambling. Casino operators will now be able to apply for three categories of gaming licenses to operate online poker, table games and slot machines online.
Pennsylvania also expects smaller casinos to open up throughout the state soon since the expansion measure will allow 10 of the state's bigger casinos to bid on a satellite casino license. The license will allow a satellite casino to be erected 25 miles off another casino, and house up to 750 slot machines and 30 table games. Bidding starts at $7.5 million, with a certificate for table games to cost an extra $2.5 million.
Airports will soon become a host to various plays. Casinos can seek approval to operate interactive gambling parlors in Erie, Wilkes-Barre/Scranton, Philadelphia, Harrisburg, Lehigh Valley, Pittsburgh, Arnold Palmer Regional Airport, and University Park Airport in State College. Several qualifying trucks are also eligible to host up to five slot machine-style machines called video gambling terminals.
Another key provision of the bill is the repeal of the 2004 provision that limited casino owners to owning more than one controlling stake in one casino. This new ruling will render moot a lawsuit that has held up the construction of Live! Hotel & Casino for nearly three years.
According to a report from the American Gaming Association, Pennsylvania remains the top state that brings in the highest tax revenue from the casino industry. In its most recent fiscal, the state was able to net $1.4 billion.
Pennsylvania lawmakers are expecting to boost the state budget by around $200 million annually from the new casino license fees and taxes on higher gambling losses from the expanded gambling bill. This will help cover the state's on-going deficit which is at around $2.2 billion.