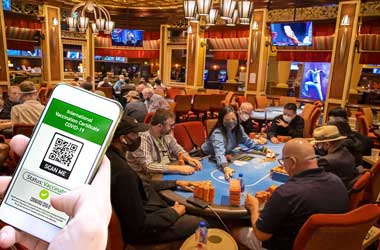 Summary
Players must show a vaccination pass or negative PCR or rapid test result to enter live tournaments with 500+ people
New COVID-19 guidelines take effect across the country on Dec. 15
Poker Rooms won't require vaccine passports but will continue with facemask mandate
Under the new COVID-19 guidelines approved by the UK Parliament, a mandatory health pass will be imposed at large gatherings and certain venues, including nightclubs and sports events across England.
The "Plan B" rules drafted by Prime Minister Boris Johnson gained approval from MPs on Tuesday, though he faced rebellion from his own party, with dozens of Tory MPs rejecting the vaccine pass requirement.
What to Present When Entering Restricted Venues
Starting December 15, the mandatory COVID-19 pass will be implemented at indoor events with 500+ people, where the attendees are expected to stand or move around. The same rule applies to outdoor events with 4,000 or more people, and all indoor and outdoor events with over 10,000 people.
The new guidelines also state that a vaccine pass won't be needed if attendees are assigned seats throughout the event, but during tournaments, players usually move around from table to table as eliminations take place.
The new measure means COVID-19 status checks will now be carried out at live tournaments with 500 or more participants in England as a condition of entry. Players must provide proof of vaccination showing that they've received two doses of vaccine. They can get the pass by downloading the NHS app.
As an alternative for the vaccine pass, players may also present a negative PCR or rapid lateral flow test result (taken within the last 48 hours) upon entry. Those who are exempt for medical reasons or are currently participating in a clinical trial won't be required to present a COVID pass.
Vaccine Passport Measure Remains Controversial
People entering UK Poker Rooms don't need to provide a vaccine pass at least until January, but they are required to wear facemasks. The measure was reinstated last week over concerns the country could see a surge in hospitalizations due to the Omicron variant.
COVID passes have remained a controversial issue not only in England but all over the world, as countries impose new restrictions to fight a resurgence of positive cases caused by new variants. Many have expressed strong opposition to the idea over fears it might infringe on people's rights and freedom.