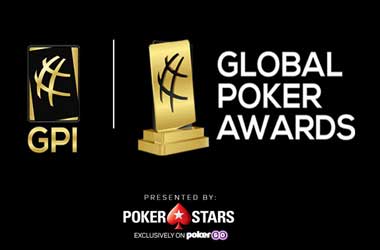 Summary
The Global Poker Awards have been postponed to 2022 due to pandemic
Global Poker Awards will be held at Las Vegas on 18th February
Kevin Mathers joins GPI/THM Team as a Poker Information Manager
The Global Poker Index (GPI) are hosting the Global Poker Awards (GPA) at the PokerGO Studio in Las Vegas once again. The Hendon Mob (THM) and GPI are working together to finish the year on a high note.
The PokerGO studio will once again play host to the GPA ceremony. The GPA awards were supposed to take place in 2021 but due to the outbreak of COVID-19 it was not able to proceed. The GPA will be handing out 20 awards like the GPI Player of the Year, Best Vlogger, Player's Choice for Toughest Opponent and Poker ICON award to name a few.
The entire list of awards that are going to be handed out, have not been announced yet as there is some changes to be made. Some awards that have been handed out in the past include Event of the Year, Final Table Performance of the Year, Breakout Player of the Year and Journalist of the Year.
The voting begins in January 2022 and fans are also allowed to vote for three awards. Eric Danis the President of the GPI/THM said poker fans can send in their nominations via email to GPI or contact them via Twitter.
The Hendon Mob and GPI made a new addition to their team as they signed Kevin Mathers.
Kevin Mathers Added To The GPI/THM Team
Kevin Mathers signed up to join the GPI/THM team and has become their Poker Information Manager. Mathers has been in the poker industry for over 10 years and is one of the most popular and trusted individuals in the game and his expertise will help GPI/THM.
Danis said they were happy to have Mathers on the team as his experience will make a big difference to the GPI/THM team. Usually when the GPI/THM hire new individuals it does not make headlines in the poker world but Mathers has covered the WSOP on Twitter for a number of years.
Mathers tweeted that he was happy to join the GPI/THM team and said he looked forward to working with them as their Poker Information Manager.
I'm happy to announce that I've joined @GPI and @TheHendonMob as their Poker Information Manager.

Looking forward to working with @EricDanisPoker @Lord_Boothby @antcharter @HansytheKing and everyone associated with GPI/THM https://t.co/nbN5GU0I3a

— Kevin Mathers (@Kevmath) December 16, 2021