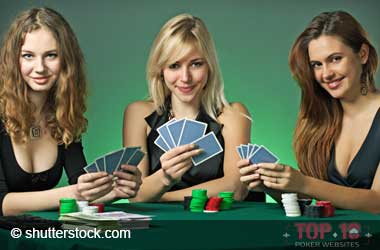 While poker has seen an increase in popularity over the years, the fact remains that it is a sport dominated by male poker players. Previous attempts by poker operators to increase female participation in the game were met with little success. The number of female players joining both land-based and online poker tournaments is still very minimal.
Though majority of poker operators don't keep track of female numbers participating in tournaments, the World Series of Poker (WSOP), the world's most popular poker tournament, has been monitoring female participation since 2013 and latest figures are not very encouraging.
There's been a decline in the number of women playing the WSOP Main Event in the last four years.
WSOP stats show that in 2014, out of 4,351 entries, only 5.28 percent were women. The following year, women accounted for only 5.43 percent out of 5,625 entries. In 2016, out of 5,522 entries, only 5.12 percent were women. 2017 also saw a drop in participation with women accounting for only 5.4 percent out of 6,516 entries. And for the 2018 WSOP Main Event, out of 5,717 entries, only 4.86 percent were women.
Poker operators must find new and creative ideas to change common poker conceptions if they want to attract more female players to the game. They must examine a number of factors to solve the puzzle.
Poker League Of Nations
Poker Operators Need To Do More
Poker has a huge untapped market in women and as the game evolves, operators like PokerStars, WPT, WSOP and partypoker should come up with effective marketing strategies to encourage more women to play. A more active participation of women will change the poker status quo and will help expand the ever-competitive global poker market.
More Role Models Needed
One must face the fact that there are very few women poker pros who have earned millions playing poker and not many of them are highly successful. Hence, there is not a lot of inspiration going around for the female poker community.
Compared that to the male poker scene where young players like Justin Bonomo, Dan Colman and Fedor Holz have made millions in the last few years. Vanessa Selbst who had a successful poker career with over $11.8 million in earnings doused the hopes of upcoming female poker pros when she quit the game to become a hedge fund manager.
A new advocacy group called the Poker League of Nations (PLON) is now working to get more female poker ambassadors from around the world to boost female poker participation in their respective regions.