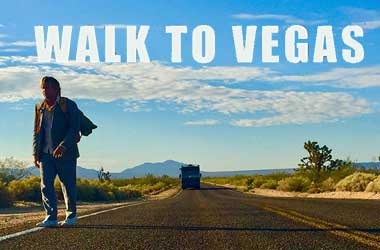 There are quite a few interesting poker movies out there and yet another poker inspired movie is set to hit the big screens before the end of the year.
The World Poker Tour's (WPT) Vince Van Patten has written and starred in a new movie called 'Walk to Vegas' which is based on stories of rich Hollywood celebrities who will seemingly bet big money on just about anything.
Van Patten's wife Eileen Davidson, who happens to be an Emmy award-winning actress, was the one who encouraged Vince to tell his story to the world.
The Walk to Vegas website reveals that the World Poker Tour co-produced the movie and will promote it to their television viewers.
Vince Van Patten Plays Lead Role
Alongside other talented actors like Willie Garson, John O'Hurley and Danny Pardo, Vince will be portraying a character named Duke in this comedy which Van Patten says will be released before the end of 2018. Audiences will also get to see other poker pros like Jennifer Tilly, Phil Laak, Antonio Esfandiari and Mike Sexton as they show off their acting chops.
Those familiar with Vince Van Patten likely know him best as being a poker player and a commentator for the World Poker Tour. However, Vince is the son of actor Dick Van Patten so it shouldn't be a surprise to learn that Vince has had a lot of acting experience. As a child, Vince appeared in several television shows such as Bononza, Adam-12 and Wonder Woman. One thing that you may not know about Vince Van Patten is that he was once a professional tennis player who was ranked as high as number 26 in the world.
It was Dick Van Patten who introduced his son to poker in the early 1970s when Vince was 14-years-old. Vince has enjoyed some success at poker tables including a money finish at the 2010 World Series of Poker Main Event. With so many years spent in Hollywood along with his vast poker experience, Vince seems to be more than qualified to be a part of such an ambitious project.
Van Patten took to Twitter on July 17th to tell his followers that the movie is almost finished the post-production phase and that he is excited to get it released. You can follow @WalkToVegasFilm on Twitter to get the latest updates.
Still finishing up post production Bob …so in about 5 weeks we'll show you a private screening since your amazing TRIMINO WATER is prominent in the film. Going to a few festivals then theatrical release later in the year for "WALK TO VEGAS"! https://t.co/8dLd0fwvSG

— Vince Van Patten (@VinceVanP_WPT) July 17, 2018