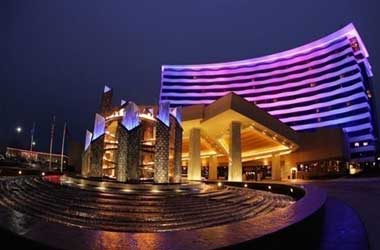 The World Poker Tour (WPT) commenced their new season with the WPT Gardens Main Event in California. The next stop will take place at the Choctaw Casino & Resort in Durant, Oklahoma and run from August 3rd until August 7th . Some of the top poker pros in the country are expected to be in attendance. The highlight of this 5 day festival will be the Main Event which has a $3,500 + $200 buy-in.
This is the fourth consecutive year that the WPT makes a stop at Choctaw Casino & Resort. This year features a guaranteed prize pool of $1 million but it should be noted that Choctaw has always had a prize pool exceeding $3 million and all top-six finalists have received at least a six-figure payout. This trend is expected to continue this year.
Players can get in on the first flight which starts at noon CT on August 3rd or they can opt for the second at noon CT on the 4th . This event offers unlimited re-entries but it is not a best-stack forward format. Players will start this deep-stack tournament with 40,000 chips with big blinds starting at 100 chips and increasing every hour.
World Poker Tour
A Few New Tournament Twists
The WPT Choctaw format will feature a couple of exciting changes to the standard rules that will speed up play. For starters, the big blind will be responsible for paying all of the antes for the table. Also, once the tournament comes within a table away from being in the money, all players will automatically be subject to a 30-second clock although each player will be allotted four extensions. Once these extensions are used up, players will need to act quickly.
WPT History at Choctaw
There have been some very memorable moments at Choctaw since it became a part of the WPT circuit in Season 14. In Choctaw's inaugural year, Jason Brin came out on top of a healthy field of 1,175 players to win $682,975 while James Mackey won the title and a cash prize of $666,758 in Season 15. Last year, it was a recreational player by the name of Jay Lee who topped the field and received a $593,173 payday.
Satellite Events
If you are looking to get in on the exciting poker action at WPT Choctaw then you better act fast. Seats can currently be won through $100 Super Satellites. Choctaw Casino & Resort will be offering plenty of opportunities to get into the Main Event starting on July 31 st with a series of $300 and $500 Mega Satellites.