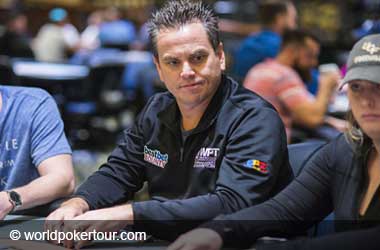 Live poker is one of the many industries that have been hit by the coronavirus pandemic. Since January, several major real money poker events have been cancelled around the world, as organizers prioritize the health and wellbeing of staff, players, and guests.
The latest poker casualty of the pandemic is the 2020 World Series of Poker (WSOP), which was originally scheduled to kick off on May 26 at the Rio All-Suite Hotel & Casino in Las Vegas, Nevada. While the cancellation of this summer's biggest poker event was widely anticipated, organizers were only able to confirm the news last week, alongside an indication that the festival could be held during the fall.
In the wake of these massive cancellations, organizers and tournament directors are faced with huge challenges, especially when it comes to revisiting tournament schedules, keeping things going for players and fans, and dealing with the negative impacts of the ongoing crisis. But for World Poker Tour's Matt Savage, the live poker industry will learn a thing or two from this pandemic.
Savage is among the co-founders of the Tournament Directors Association (TDA), and back in March, when the live tournament scene was about to go dark, he posted a list of recommendations on his Twitter account on how to prevent the virus from spreading especially in large gatherings such as poker events, something he said should have been done a long time ago.
If poker tournaments are going to continue to run players deserve to have the utmost confidence that the casino has player safety in mind and at a minimum should follow these procedures. #PlayerSafety pic.twitter.com/pYqZfq2mxL

— Poker TDA (@PokerTDA) March 10, 2020
Matt's recommendations highlight the importance of cleanliness and personal hygiene during poker competitions. His suggestions include disinfecting all the rails prior to the start of the tournament and during breaks, providing hand sanitizers across the venue, making the tournament exclusive only to the participants, limiting the number of players around the same table, and not allowing visibly sick players to continue playing.
Savage said the ongoing pandemic serves as a wake-up call, not only in specific industries and sectors, but in the world as a whole.
Future Plans
Several WPT events have been cancelled as a result of the coronavirus pandemic, and Savage said they are now working on what to do for the future. Right now, they are focused on utilizing the tour's official subscription online poker game ClubWPT, as well as putting out more exciting episodes on PlutoTV. The company also had to cut its manpower in the middle of the crisis, but Savage said they will work on having those people back on board once everything is fixed.
For the meantime, the decision on when pending WPT live events will take place lies on the tour's partner casinos. Savage assures everyone that the WPT will be ready once the COVID19 crisis is resolved.