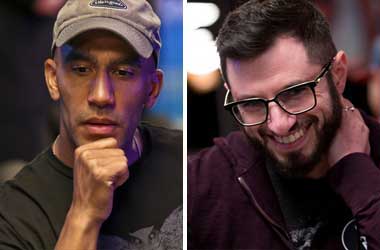 The much-awaited PLO challenge between Phil Galfond and Bill Perkins is underway! The match kicked off at partypoker this week with the hedge fund manager taking an early lead after winning $6,000 on the first day.
Galfond ended his heads-up battle against "Venividi1993" in epic fashion when he managed to pull off a massive comeback, ultimately claiming victory on the final day of the match which took place on April 12.
The Run It Once founder won €100,000 for his tremendous effort and perseverance, despite being on the ropes several times.
While many believed Galfond would take a break following his huge victory against the online legend, he announced two days later that he was ready to face his next challenger – Bill Perkins.
Run It Once
Perkins is frequently seen playing in high-stakes tournaments, including the World Series of Poker (WSOP) Big One for One Drop. He is a businessman engaged in venture capital and energy markets, but is also a poker aficionado who is the man behind the Thirst Lounge, a popular poker and lifestyle channel on Twitch. The 51-year-old is also popular for his charitable acts and passion for prop bets.
Galfond v. Perkins (Day 1)
Under the terms of the challenge, both Galfond and Perkins will play at stakes of $100/$200 pot-limit Omaha, and will battle it out across 50,000 hands (double the hands that the RIO founder played against his first opponent), with a $400,000 stop-loss. If Perkins wins, he'll get $1 million, while Galfond takes $250,000 if the outcome favors him.
The bout kicked off on April 14 at partypoker, with Perkins gaining a huge advantage early in the game. However, Galfond managed to narrow the gap during the later stages of the battle, and Perkins' $50K lead dwindled to just $6K when the match concluded.
The battle began at a slow pace, with both players fighting it out at one table, contrary to the two tables in Galfond's first match against Venividi. Galfond ignited the action by winning numerous pots, but Perkins snatched the lead after a failed bluff from Galfond. The hedge-fund manager then pulled further ahead, leaving his opponent around $45K in the hole. But Galfond was able to recover after winning successive huge pots. The session ended with Galfond down $6K.
After his bout with Perkins, Galfond will face five more players as part of the Galfond Challenge series. They are: "ActionFreak", Luke Schwartz, Dan Cates, Chance Kornuth and Brandon Adams.