New Jersey Poker – Legal Online Poker in the State of New Jersey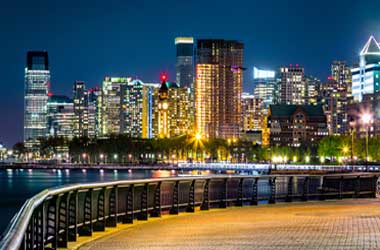 New Jersey is one of those states where the residents can indulge in their favourite online casinos and poker rooms without a worry in the world. It was in November of 2013 when a soft launch was initiated and after the testing phase, the public launch itself was brought forward just a few days later on November 26th 2013.
On the public launch, a total of fifteen online gambling establishments which included as many as five exclusive poker rooms were declared legal for players from New Jersey to play on. This was during the initial launch and the list of course was subject to change and has since grown in number.
As per the legislation, New Jersey residents and visitors who are within the borders of the state can gamble online legally, but only on the white listed websites as announced during the launch. Even though intrastate online poker rooms have been developed and introduced into the online gambling market of New Jersey, online Poker Players from New Jersey still frequent overseas poker rooms and online casinos simply because they are much better in terms of the variety of games on offer, and the sheer number of other online poker players from around the world who are playing in these overseas sites at any given time.
Top New Jersey Poker Rooms for September 2021All Poker Rooms are Licensed , Mobile Friendly Advertiser Disclosure
1

100% up to $1000 each for Poker and Casino
Bitcoin Welcome Bonus 125% up to $1250

100% up to $1000

Welcome Bonus

2

Promo Code: NEWBOL
+$250,000 Guaranteed Tournaments

100% up to $1000

Welcome Bonus

3

200% up to $1000

Welcome Bonus

4

200% First Deposit Bonus up to $1000
Promo Code: 1000JUICY

200% up to $1000

Welcome Bonus

5

100% first deposit bonus up to $1,000
$250 New Depositor Freeroll

100% up to $1,000

Welcome Bonus

6

100% upto $500 Welcome Bonus
$2 million in guaranteed prize pools per week

100% up to $500

Welcome Bonus

7

Promo Code: NEWSB
$50,000 guaranteed tournament

100% up to $1000

Welcome Bonus
In terms of revenue generation, the progress seemed slow and almost doubtful for the first year after the public launch. However, as many industry experts predicted, it was only a matter of time before the industry gained traction and started to pump out some serious numbers in terms of revenue generated. While the industry struggled to meet the target the first year, in 2016 it saw a sharp improvement and raised a staggering $196.7 million US dollars which was essentially an increase of nearly 32% when compared to the previous year.
Even though the industry seems to have picked up dramatically, it must be pointed out that much of the revenue is coming from online casinos and not exactly from exclusive online poker rooms. Yet again, it may only be a matter of time before the online poker rooms also start to shine and start contributing in achieving the states realistic revenue targets annually. PokerStars has now merged with Resorts Casino and they have come up with a poker room exclusively for New Jersey called pokerstarsnj.com. This website was launched on March 21st and is already being recognized as a hit. While this website focuses on poker, it also offers players some change in terms of blackjack, slots, roulette, video poker and baccarat which players seem to enjoy every once in a while, as a much-needed break from the intense poker action.
History of gambling and laws in the State of New Jersey
Now that we have gone over the future prospects of online gambling in the State of New Jersey, let us now take a peek back in time and go over the history and some of the landmark moments and years in the history of gambling and gambling laws in New Jersey.
1884 – Before this year, lotteries were not only common but were also commonly utilized by the state to raise funds for several organizations such as Queen's college and was even used to raise money for military activities of the American revolution. However, it was in 1884 that New Jersey legislators decided that lotteries should be outlawed and banned them.
1870 – Horse racing track is established in Monmouth Park
1894 – New Jersey outlaws Parimutuel gambling
1894 – All gambling outlawed on paper, but not so much in the real world
1939 – Horse racing legalized
1953 – A referendum to allow NGO's to operate bingo and raffles is approved by the house
1957 – Amusement games outlawed and classified as a part of illegal gambling
1959 – Court decision says amusement games are not illegal – amusement games now legal
1970 – Majority of New Jersey residents vote overwhelmingly for the launch of New Jersey Lottery
1974 – Public vote goes against legalization of casinos
1975 – First lottery with players picking their own numbers played
1976 – Casinos legalized, but only within Atlantic City
1978 – First legal casino launched – Resorts casino
1980 – 100th Lottery millionaire named in New Jersey
1987 – Annual Lottery sales cross $1 Billion
2003 – New Jersey Lottery brings forth first internet instant game – Slingo.
2010 – Powerball tickets sold by New Jersey Lottery
2011\12 – Sports betting legalized
2014 – Online casinos raise $122.88 million revenue for the State
2015 – Online casinos raise $144.88 million revenue for the State and PokerStars issued the license and a go ahead
2016 – PokerStars introduces New Jersey exclusive casino website. Gambling industry raises $196.7 million in revenue.
What does the future hold for online poker in New Jersey?
The Garden state is making all the right moves to fuel the online poker industry and take it to the next level. State legislators have now introduced small yet effective changes to their legislation which will further support online poker and its development within New Jersey. They have even introduced intrastate poker rooms which accepts players from the Garden state exclusively. This gives the online poker rooms a sense of community and belonging apart from the top draw poker action.
Furthermore, land based casinos where you can play poker face to face, have also made provisions for players to be able to get onto online poker rooms from within their land based casinos and play to their hearts content. Another law that has strongly linked land based casinos with online casinos and online poker rooms was passed by Gov. Chris Christie in February of 2013 and it basically dictates that for an online casino or poker room or an online gambling establishment of any sort to be issued a license and considered legal within the state of New Jersey, the software provider has to be linked with one of the many land based casinos that are all over the Atlantic city coastline. As a result of this requirement, some of the biggest online poker rooms in the world such as PokerStars, Borgata, WSOP and PartyPoker are now present in the live market.
Likewise, Bally Technologies has partnered with Golden Nugget Casino. Betfair and Party Digital have linked up with the Tropicana.
Because the term poker has not been specifically mentioned in the piece of legislation which legalized online gambling subject to many conditions as passed by Gov. Chris Christie, there was some doubt and speculation surrounding the legal status of online poker. However, these questions have been cleared up since the New Jersey Division of Gaming Enforcement have been given authority over white-listing the types of games which are suitable for online casinos and this list obviously includes poker along with several other popular casinos games found in casinos all across Atlantic City.