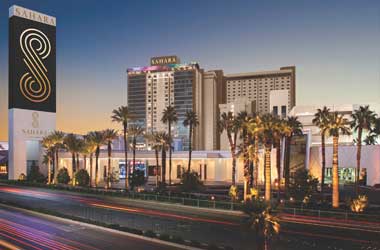 Live tournament action is finally back at the SAHARA poker room in Las Vegas! The venue is hosting a new No-Limit Hold'em tournament every week, taking place every Saturday and Sunday, at 1 p.m. The tournament is exclusive only to Club 52 card holders who are over 21 years old.
The $120 buy-in tournament kicks off with players receiving 20,000 in chips, played in 20-minute levels. Players are allowed a single rebuy of $100 until the start of Level 6. $100 of the $120 entry fee will go directly towards the prize pool, and the full $100 rebuy will also be added to the total prize money. During the conclusion of every five levels, participants will be given a 10-minute break.
The tournament will have 24 levels all in all, with the big blind beginning at 100 and will increase with each level. The small blind also starts at 100 and will begin to go up at Level 4. The tournament adopts a big blind ante structure where an ante will be generated from the big blind and will be posted first before the big blind.
The prizes will be awarded in the form of either cash or casino chips. Participants are required to register two hours before the scheduled start of the tournament.
In compliance with minimum health and safety standards to prevent the spread of COVID-19, the venue is implementing a mandatory wearing of face mask which applies to anyone who enters the establishment, including SAHARA staff. Plexi dividers have also been installed at each poker table which can only accommodate seven players. Participants are advised to observe strict social distancing.
SAHARA Poker Room Offerings
The SAHARA poker room houses a total of seven poker tables, and is equipped with a huge LED video wall and five extra screens across the entire room. Apart from NLH, the venue also offers Pot-Limit Omaha, 7-card Stud, and a wide array of mix games for those who don't want to get stuck in the traditional formats.
The room also runs seven-handed cash games every day, with exciting promos. Players can get rewards points playing in cash games if they sign up via Poker Atlas. These points can be used by players in purchasing food at some of the restaurants operating at the resort. Members of Club 52 are offered exclusive access to SAHARA's top amenities.
The poker room at SAHARA also has one of the most competitive rakes, set at 10 per cent ($4 max).
In preparation for the new normal, the entire resort has put together a SAHARA Cares health and sanitization program to ensure the safety and wellbeing of its patrons.