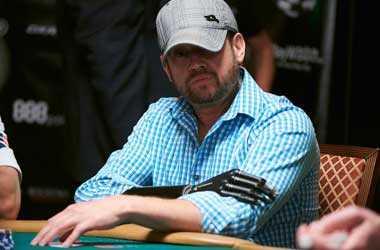 Jeremy Perrin decided to enter his very first WSOP bracelet event at 2018 WSOP and it worked out great for him in the end.
Perrin took down The Giant No-Limit Hold'em event and finished in first place to win his first WSOP gold bracelet and pick up a cool $250,966 for his efforts.
The US poker pro admitted that when he entered the event, he wasn't really thinking about winning the WSOP bracelet as much as he was thinking about winning a prop bet against one of his friends.
The prop bet was between Perrin and one of his friends who came with him to "The Giant" to play was that the winner between the two would get to pick a tramp stamp for the other who would have to keep for a year. Perrin appeared to be more interested in the prop bet than the coveted WSOP bracelet.
In a statement, Perrin said
If we play in a tournament together, a ring or bracelet event and we both play, and I win, or he wins, I get to pick a tramp stamp for him that he has to keep for a year. That is in stone. That's all I have played for. The money doesn't matter; I'm gonna take the bracelet and melt it down into gold fronts. I'll take the money, put it into a shredder. I just want to get his tramp stamp
Lowest Buy-in Event At 2018 WSOP
This is only the second year that the World Series of Poker (WSOP) is holding Event #6: The Giant $365 No-Limit Hold'em which has quickly turned into one of the most popular events in the series. With a $365 buy-in, The Giant was the lowest buy-in event at the tournament. Five starting days for the event drew in 8,920 entrants to make up a prize pool of more than $2.6 million.
Perrin's win is sure to inspire a number of low stake poker pros that they can show up at the WSOP with a small bankroll and then walkout with a life changing amount. The challenge was difficult as Perrin had to beat a long list of players but in the end he showed that with patience and perseverance one can convert a $365 buy-in into a $250,966 payout.
US pro Luis Vazquez finished in second place with $155,478 and Bulgarian poker pro Svetlozar Nestorov took third place to finish with $118,444.