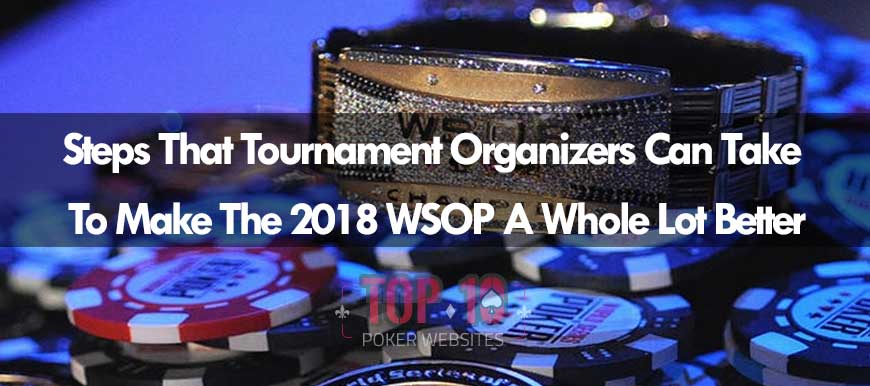 This year's World Series of Poker will be opening its doors in less than two months and many players from all over the world will be coming to Las Vegas to play at the 2018 WSOP. The biggest poker tournament in the world will take place at the Rio Casino yet again and tournament organizers will have their hands full as thousands of players make their way to the Rio.
WSOP organizers have many years of experience in running this mega poker tournament but there are always things that can be improved to make the entire experience better for players and the media.
Things to consider for WSOP Tournament Organizers
Here is a short list of steps that the WSOP organizers can take to improve the 2018 edition.
Playing Cards With Better Quality
One of the biggest complaints from the 2017 WSOP was that many playing cards were not in proper condition. Thousands of packs will be used during the 2018 edition and WSOP organizers should have worked this issue out already.
More Rest Rooms And Better Maintenance
The second complaint that was very common at the 2017 WSOP was over the condition of the rest rooms. Players had to wait in line as there were not enough rest rooms and maintenance could have been a lot better. Players are hoping that the rest rooms at the 2018 will be in working condition and will be better kept.
Removing The Hard Stop
The existence of a hard stop means that the final table of a lot of WSOP events are forced to fold and come back the next day. This can disrupt a player's planned schedule considering the fact that all of the WSOP events follow a tight timeline. The better option would be to let players be given the option to stop or keep playing. This puts the decision in the players' hands.
Increase Live Streaming
Most poker fans will not be able to make it to Vegas and watch the WSOP live. They prefer live streaming and PokerGO managed to do a fairly good job of it in 2017. However, viewers have made it clear that they want more.
Faster Registration and Payouts
Time is money and players would appreciate a faster registration process. The WSOP is looking to make the registration process easier in 2018 but it will still be a time consuming process because the Nevada Gaming Control Board has very strict verification procedures. However, this year will see the implementation of digital wallets and mobile apps to make things easier.