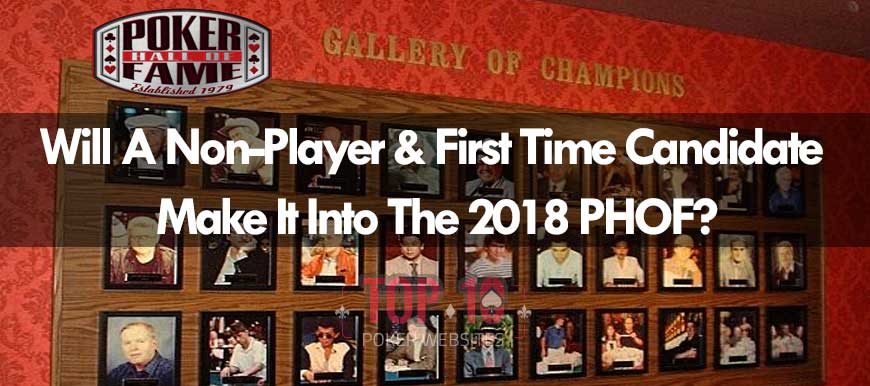 The 10 candidates for the 2018 Poker Hall of Fame (PHOF) have been shortlisted and the poker community is debating whether a non player and first-time candidate will make it into the prestigious .
After the public nominations and vetting by the PHOF Governing Council, the 10 names that were shortlisted were Chris Moneymaker, Mike Matusow, Bruno Fitoussi, Chris Bjorin, David Chiu, Huck Seed, Mori Eskandani, Matt Savage, David Oppenheim and John Hennigan. These 10 names have been forwarded to the living members of the PHOF and the media voting panel to determine who will be the next inductees into the PHOF.
Most of these names come as no surprise as they have been part of previous PHOF shortlists before. However, two names are on the list for the very first time: John Hennigan and David Oppenheim. Both players have earned their spot on the shortlist for their sterling career records and versatility at the poker tables.
A Look At The Two New Names On The List
John Hennigan has accumulated over $8.1 million in his career so far and has shown great versatility winning his 5 gold bracelets from 5 completely different games: Limit, H.O.R.S.E., Seven Card Stud Hi-Lo, 2-7 Lowball and then at the 2014 Poker Players Championship. He has been on a tear at the 2018 WSOP cashing in nine times.
At 45, David Oppenheim is one of the younger candidates on the list but he has been on the circuit for the last 17 years and has accumulated $1.8 million in career winnings till date. He plays mostly in the United States and Australia and is known for taking part in high stakes cash games.
Will A Non-Poker Player Be Inducted?
The PHOF is also about honoring the men and women who have contributed to the game from behind the scenes. That's why this year, two non-players are vying for a spot in the PHOF for their amazing work in making poker great again. The last time a non-poker player was inducted was back in 2014 when Jack McClelland was shortlisted.
This year Matt Savage and Mori Eskandani are once again on the list as they have contributed extensively to the poker world in their own ways. Savage is known world-wide for running the World Poker Tour and setting the standard for poker tournament rules across the world.
Eskandani is in another playing field of his own and is largely credited for bringing the poker world to a larger audience. As the producer and owner of Poker PROductions, he has produced top poker content including shows like High Stakes Poker, Poker After Dark, Face the Ace and National Heads-Up Poker Championship. Currently, he is also producing the WSOP content for ESPN and PokerGO.