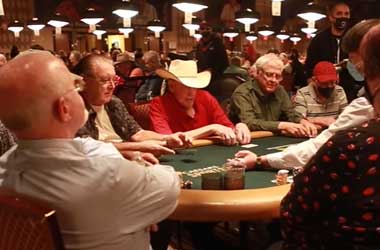 Poker Hall of Famer (PHoF) Doyle Brunson said earlier this year that he would come out of retirement and take part in the 2021 World Series of Poker (WSOP). The 88 year old poker player did not confirm which WSOP events he would end up playing but true to his word, Brunson showed up over the weekend and thrilled WSOP fans in attendance and online.
Brunson showed up in his customary red shirt and cowboy hat and was welcomed with a loud cheer across the Rio and his popularity and fame continues to grow even though he hasn't been at the WSOP for the last three years.
Brunson is poker royalty and is one of the most respected players in the history of the game. He has 10 WSOP bracelets to his name and is tied in second place for the most WSOP bracelets alongside the likes of Phil Ivey and Johnny Chan. He took part in Event #58: $1,000 Super Seniors No-Limit Hold'em and had another go at winning his 11th WSOP bracelet.
pokernewsdotcom
Brunson did not have a great run at the Super Seniors No-Limit Hold'em event as he busted out within an hour of sitting down at the table. While things did not go his way, he ended up having a great time at the table and his presence will continue to inspire thousands of poker players who look up to him.
Brunson Will Play More Events
Doyle Brunson was escorted to the Super Seniors No-Limit Hold'em table by the President of PokerGO and another PHoF member Mori Eskandani. Brunson who has had his fair share of health issues over the years looked pretty good and is expected to play a few more events before the 2021 WSOP comes to an end.
We are not sure which events "Texas Dolly" is going to play in the coming days and whether he will have a crack at the 2021 WSOP Main Event. Brunson has won the WSOP Main Event on two occasions but it might take a toll on his health to play another extended WSOP Main Event as of now.
Brunson showed at the 2021 WSOP even though there were a few concerns with regards to COVID-19. Poker pro Vanessa Kade said she tested positive for COVID at the WSOP and said she thinks she caught it when she played $3,000 six-max event last week.
Reposting because I realized I played the shootout AND the 6 max (symptoms at home Weds/Thurs).

Just don't want anyone else to get sick so if you were around me at all either of those days and don't feel well please get checked!

Thanks for the kindness & see you for the ME ❤️ pic.twitter.com/NhOCTkd9WI

— Vanessa Kade (@VanessaKade) October 29, 2021