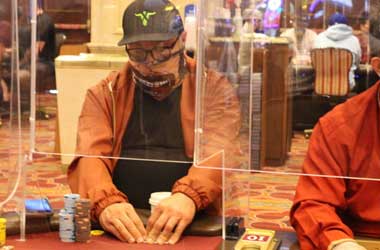 The latest edition of the Mid-States Poker Tour Poker Bowl at the Venetian recently came to an end and once again the tournament concluded in a deal, with the final four players agreeing to split the money.
The biggest winner among them was Johnny Oshana, who walked away with $130,000 in winnings.It wasn't an easy win for Oshana as he became the short stack at one point during the final table.
That made him rethink his poker strategy and in the subsequent hands he shifted from being aggressive to playing smart. That worked for him as he eventually climbed to the top and ended up being the champ.
Jordan Cristos from Las Vegas, Nevada claimed the 2nd spot for $119,232, while Joris Springael from Glendale Arizona and Seungmook Jung who hails from South Korea finished in 3rd and 4th place respectively, each taking home $85,000.
It was a thrilling race to the final table, with the remaining 16 players having to wait for more than an hour before eliminations took place. There were a few popular names in contention, including Adam Hendrix, Sean Yu, Asher Conniff, Javier Zarco and Ryan Reiss, all of whom fell short of reaching the final table.
As the final table was taking shape, Oshana was leading the pack. He grabbed the lead after sending Tim Reilly to the rail, winning a huge pot. His aggression initially worked in his favor, but things changed during the final action.
Final Table Results
The first player to leave the final table was Erik Cajelais who finished eighth for $14,092. Kfir Nahum followed him to the payout desk, winning $20,257 for finishing seventh.
After initially holding the chip advantage, Oshana then found himself sinking to the short stack as his aggression was working against him at this time. The San Jose, California native admitted he got caught up in the moment. Fortunately, it didn't take long for him to adapt to the situation and that made him stay through to the final stages of the tournament.
Quy Dao and Brandon Eisen fell in sixth and fifth place for $26,423 and $34,350 respectively to leave Jung, Springael, Cristos, and Oshana in four-handed play. The finalists initially battled it out for about an hour, however after taking a final break, all eventually agreed to chop the remaining money, with Oshana receiving the biggest payout.