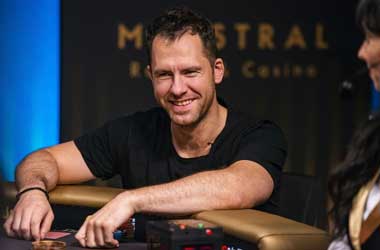 After recently becoming involved in an online cheating scandal which was exposed on Twitter by hedge fund manager Bill Perkins, Dan "Jungleman" Cates has suggested in his latest blog that he might take a break from poker. However, the latest controversy to hit him has very little to do with his decision to quit the felts. The 30-year-old reignited his passion for writing back in April by starting a new blog.
In a new blog post "Quarantales" published on June 1, Cates shared his thoughts on how the global pandemic had paved the way for him to learn new things, out of the "free" time he's enjoying while the world was on lockdown.
With the coronavirus crisis slowly clearing up, Cates indicated he would embark on a new career journey, and shift his focus away from the game that brought him massive success over the years.
Since the COVID-19 lockdown began, people have been ordered to limit their movement and adhere to strict restrictions to curb the virus. Like the majority of people, Cates had been on home quarantine for several weeks, but it did not stop him from doing a lot of things, from improving his personal wellbeing, to reconnecting with nature.
The American poker pro said he has learned to "embrace the inner adventurer" in him and developed an interest in roaming around parks, discovering wildlife, and learning more about his current home, London.
Staying at home for an extended period also enabled him to learn new domestic skills, such as cooking, using a dishwasher, cleaning, and doing the laundry. Cates also said he has become more fun and creative, and has learned to care less about what other people think of him, which he said is important as we go through life. He also said he wanted to be less serious and navigate towards simply having fun and living a simpler, more fulfilled life.
Poker No Longer Satisfying
Of course, Cates also talked about poker, and revealed that the game "no longer satisfies" his ambitions. He also made reference to the cheating scandal that erupted on Twitter where he said he "got screwed over despite having the tiniest role". Cates was the person Perkins was targeting in his post with regards to a ghosting controversy which took place online. Cates addressed the controversy and tried to justify his act saying many other pros were doing the same thing.
My defense for @DanBilzerian 's accusations https://t.co/EdD3yTsout

— Daniel Cates (@junglemandan) May 27, 2020
Cates said that while poker remains an excellent way to achieve financial freedom, he admits he is now more aligned towards doing good and making a real difference. But he made clear that he does not intend to quit the game for good, he just wants to follow a new career path and accomplish his "crazy" goals.