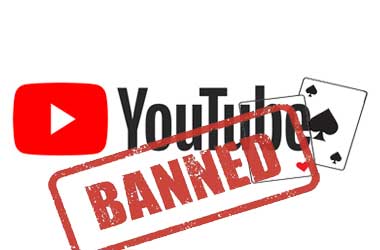 Poker vloggers are accusing YouTube of deliberately removing a number of poker videos without giving them a reasonable explanation for the move. Over recent weeks, many poker enthusiasts have noticed that a lot of poker-related videos have gone missing on the video-sharing platform.
Among those affected by the apparent deletions is Jamie Staples, whose YouTube poker channel currently has over 73,000 subscribers. Staples, one of the world's most popular poker streamers and content creators, is now urging fellow vloggers who believe they may have been targeted to let him know by sending in relevant info.
Staples recently tweeted and offered to gather all the data from the affected content creators so that all their concerns and complaints will reach the YouTube team. Since last year, dozens of videos from Staples' channel have also been removed.
I would like to help the #youtube #poker situation by organizing the information. Further details to follow this tweet. pic.twitter.com/g5EMblw1TW

— Jaime Staples (@jaimestaples) February 18, 2020
YouTube vlogging has become an income-generating pursuit, with numerous YouTubers earning decent money from putting out niche-based videos. In poker, famous vloggers and content creators like Brad Owen, Doug Polk, Andrew Neeme, Marie Cordeiro, Jeff Boski and Staples himself generate good revenue from the video sharing service, therefore if some of their videos are removed, their vlogging income is also reduced significantly.
Owen already reached out to YouTube to raise his concerns, but was unable to receive any reply. Five videos have been deleted from Owen's poker channel without any explanation. Owen currently has 183,000 subscribers.
This apparent YouTube poker crackdown has been a mystery to a lot of poker content creators and all of them are looking for an answer.
Deletions Could Be Due To Algorithm Update
YouTube has yet to issue any statement on the issue, but it appears recent poker video deletions are prompted by a new algorithm change implemented by the platform.
In fact, this isn't the first time that YouTube has banned videos of specific content. It also previously removed gambling-related videos introducing an algorithm update. Videos found actually complying with their terms and conditions are put back. This may be the actual situation currently experienced by poker content creators.
While there are some gray areas in YouTube's rules on gambling-related content, there's one unwritten specific rule that the top poker vloggers abide by – their description box or comments shouldn't contain any links to online gambling sites. Thus, this ongoing problem could be because of a potential error in YouTube's algorithm update.