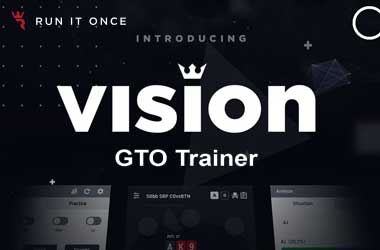 Run It Once (RIO) has introduced a new tool that will help pot-limit Omaha (PLO) players elevate their game by applying the increasingly popular Game Theory Optimal (GTO) strategy.
The new PLO GTO trainer called "Vision" is equipped with more than 6,000 solver simulations and over 300 preset boards that enable players to review specific hands in real time!
This new offering from RIO deviates from the usual no-limit hold'em GTO tools available today. Vision is mainly focused on PLO players, and also comes with a quiz generator that can be customised according to user preferences.
Apart from that, the tool is also compatible for use on mobile devices, therefore players will be able to quickly practice on the tool whenever and wherever they are, without hassle.
The RIO website now has a dedicated Vision page which gives players an idea of how the tool works. The page shows the website's founder Phil Galfond himself putting the software to work and trying all of its features, including hands, actions, boards, and stack sizes. The tool is user-friendly and eliminates the need for long hours of simulation runs as reviewing hands will only take seconds.
Price Details
The tool has two versions: 6-Max PLO and heads-up PLO, and you need to pay $129.99 per month if you want to use either of the two editions. This price isn't for everyone, and is unlikely to attract the micro and lower-stakes players.
If you want to acquire added knowledge and save on costs, you can take both versions for just $199.99 a month. However, if you utilise the tool for one full year, you are entitled for a 25 percent discount. Combining them both will require just $149.99, down from $199.99 a month with various payment options available.
If you aren't registered yet, go to the Run It Once Poker site, sign up, and take advantage of up to 45 percent weekly rakeback. You may also earn extra rewards through the site's very own Splash The Pot Rewards system, which awards of up to 30% rakeback to players. That amounts to up to 75% rakeback each week, and you can save all your cashback payments to use the new Vision PLO GTO trainer!
To find out more information on this new training tool, do check out the Run It Once website.