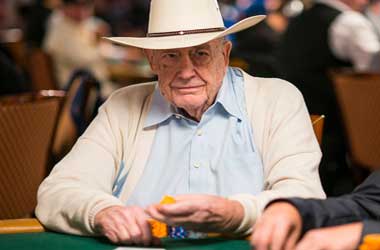 Retired American poker pro and hall of famer Doyle Brunson has irked many poker players and fans after questioning an ongoing donation drive for the late Gavin Smith.
The donation drive was reportedly set up to benefit Smith's children. Brunson said there is no need for the poker community to raise money as the children were going to live with Smith's brother who is very wealthy.
Smith's sudden death was announced on, January 14. The reason for the former Full Tilt pro's untimely demise is not yet known. He was 50 years old.
Poker pro Josh Arieh then initiated a GoFundMe campaign to raise funds for Smith's two children. The poker pro set a $100,000 goal and within just four days, financial donations exceeded $67,000. While most in the poker community see the fundraiser as an act of helping the two bereaved kids, Brunson questioned the donations.
The poker legend's comments on Twitter did not go well with some poker players. One Twitter user implied it was too insensitive of Brunson to question donations to a dead man's orphaned kids. Joy Kendra Brown, who claims she knows the Smiths, rejected Doyle's comments and said she's not aware Gavin has filthy rich relatives.
HAS a brother. and a sister and a mother. None are filthy rich. I have spent time with them. Why don't you ask @Balsbaugh because he knows Gavin's family as well. We've all spent time together. What a weird and kinda awful tweet. You should have asked anyone who knows his family

— Joy Kendra Brown (@joykendra) 18 January 2019
Brunson isn't alone in this row though. A family friend, Robert Mizrachi, defended him by saying he has a kind heart and even allowed the deceased to stay at his Montana ranch.
He was only asking a question and his son is best friends with Gavin.He never stated anything. I donated because I love Gavin smith.@TexDolly has a kind heart and he let @olegsmith stay with open arms at his ranch in Montana.

— Robert Mizrachi (@PokerRob24) 18 January 2019
In a response to Brown, Brunson defended his comment saying he sees nothing wrong with it. In fact, he himself made a good donation. Whether or not the Smith family is wealthy or not isn't really known. The financial status of the late poker pro's relatives who will take custody of his children is also beyond public knowledge.
Arieh Sets Record Straight
With the row boiling on social media, Josh Arieh felt compelled to set the record straight. As a close friend of Smith, the 2004 WSOP Main Event third place finisher is certain the kids need help. He refused to give further details.
Arieh said even if there is some truth to the rumours, it doesn't hurt to give back to someone who dedicated a large portion of himself to poker. Arieh highlighted Smith's legacy of helping others even at times when helping was difficult for him.
Smith's lifetime tournament cashes stood at $6 million. Thus, some players are also raising their eyebrows on the fundraising campaign. But despite this, the entire poker community is united in supporting Smith and his bereaved family.