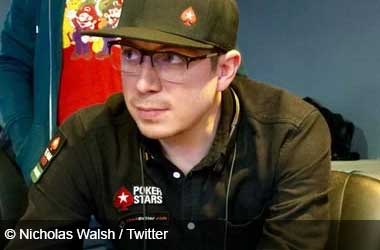 An online poker player from Germany scooped a massive $2 million jackpot after playing Spin & Go at PokerStars. It was the second largest single amount ever won by a player at the online poker site, and the astonishing victory was witnessed by PokerStars ambassador and OP-Poker founder Nick Walsh.
Walsh saw how "Donk3399" was able to capture the massive jackpot in less than 15 minutes while he was streaming the game on his Twitch channel. Walsh said he was in shock and felt a sense of wonderment upon witnessing the huge win.
Walsh usually plays mid-stakes Spin & Gos and also had some success in the game, having previously hit a jackpot himself. While Spin & Go has become an increasingly popular format, many players still lack knowledge on the best strategy to conquer the game.
By streaming his plays, Walsh aims to let his growing community know that the format involves a robust strategy and understanding of the game will help players do better.
Biggest. Spin & Go win. Ever.
$5 ➡️ $2M in 13 minutes.
That's $2,564 per second. 🤯 pic.twitter.com/vnyH3Y8Z0l

— PokerStars (@PokerStars) 28 November 2019
Who Is Nick Walsh?
Walsh who previously used the screen name "Lost_Gambit" while playing on PokerStars, is the co-founder, streamer, website developer, and content producer of OP-Poker, an online poker resource site which was originally developed for PokerStars' seasonal games such as Power Up and Unfold.
The site has grown to become a digital community comprised of poker players, streamers, and developers.
People behind OP-Poker are now members of PokerStars' Team Pro Online and have since been forging relationships and building engaging communities by coming up with high quality content and entertainment using the latest innovation and technologies. OP-Poker's mission is to explore more niche formats and help players with forming basic strategies to conquer them.
Spin & Go Tips from Nick Walsh
Walsh has been playing both live and online poker for 10 years now, with specialty in Spin & Go or heads up hyper SnGs. He is known for winning the highest ever multiplier Spin & Go (12000x) on PokerStars. Walsh said Spin & Go is a game he loves and is passionate about. To succeed in the format, Walsh said one must know how to manage his or her bankroll properly, must keep studying and learning, and should consistently get in touch with the experts.
Over the years, PokerStars have worked hard and invested a lot of their resources in improving their Spin & Go offerings. The brand even teamed up with some of the world's sports superstars, such as Usain Bolt and Neymar Jr to promote the format.