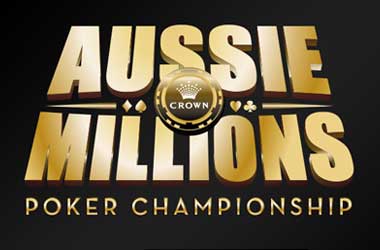 The 2019 Aussie Millions has kicked off this week and organizers are optimistic based on the numbers they are witnessing in the first few days. Aussie Millions is one of the biggest and most popular poker tournaments in the Asia Pacific reason and continues to attract poker players from all over the world.
However, with the PCA and PSPC taking place in the Bahamas in January, tournament organizers were wondering if the Aussie Millions would have a good turnout.
It looks like everything is going to be alright as the initial numbers show that the Aussie Millions continues to be a major draw for poker pros.
Eleven months ago, when the 2019 Aussie Millions was still in its planning stages, Crown Melbourne Tournament Director Joel Williams and the organizing team dealt with an inevitable pressure to replicate the tournament's record-breaking turnout in 2018.
Williams was nervous about breaking the 2018 numbers as well as competing with the PCA. However, he has already managed to get rid of his reservations when the tournament opened on January 15. He confidently said that the Aussie Millions is way ahead of its goals, considering the numbers currently engaged in the three-week action.
Early Preparations
Two weeks after the 2018 Aussie Millions closed; organizers started working on the 2019 edition and needed to sort out numerous factors affecting their planning, including the cost of living, location, the lack of online poker, as well as stiff competition.
They began running satellites as early as March of last year while mixing up the price points. Williams said they wanted to create awareness and reward local participation and make sure that Aussie Millions would capture interstate and international attention.
Dealing With Competition
Recognizing the enormous competition the Aussie Millions has to fight off, Williams said they gathered player feedback and responded to them accordingly so players would not get tired of coming back to Melbourne, Australia to play poker. One proof of this is the inclusion of the AUD $25,000 Pot-Limit Omaha (PLO) event. Another boost to the Aussie Millions 2019 schedule is the AUD$1,000,000 GTD Opening Event with an added fifth flight, poised to be the biggest in the tournament's history.
As the high-roller market continues to evolve, the Aussie Millions strives to maintain its reputation of being the softest $10,000 field on the planet where the poker elites and the low-profile players meet. Aussie Millions runs from January 15 – February 4 at Crown Casino in Melbourne.