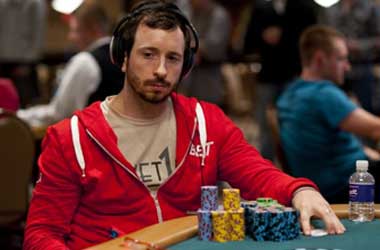 Brian Rast said he did not play a lot of poker during the last year and a half due to the pandemic. He decided to play at the 2021 World Series of Poker (WSOP) because he knew how competitive the action was at the tables and he wanted to get those competitive juices flowing.
Rast decided to enter Event #51: $3,000 6-Handed No-Limit Hold'em which was a WSOP bracelet event.
The high stakes poker pro said that while he usually plays high stakes events, he thought it was a good opportunity to put down the $3,000 buy-in and have a crack at this Texas Holdem event as the first place payout was pretty high.
Even though the money for the first place finisher was good, Rast admitted that it was the opportunity to compete and play against tough players that helped him decide to play this event. He did well along with another 20 players who made it was Day 1 into Day 2.
The success on Day 1 was enough to get his confidence in the right place and it did not take him long to prove why he is one of the best poker players in the world. Rast who has over $20 million in prize money, made the final table and then ran through the rest of the players to take the first prize.
He won $474,102 and a WSOP bracelet for his first place finish, while John Gallaher had to settle for $293,009 for his second place finish.
Rast Wants To Cement His Legacy
Rast was very pleased with his win as he now has 5 WSOP bracelets to his name and is only the second player with 5 WSOP bracelets and no second place finishes in WSOP bracelet final tables. He now joins a special group of players who have 5 WSOP bracelets. Some of these players include Scotty Nguyen, Jason Mercier, Stu Ungar, and Michael Mizrachi.
Rast was very transparent after his win and said that he did spend time thinking about his poker legacy. He admitted that one of his goals was to enter the Poker Hall of Fame (PHoF). The 39 year old wasn't eligible to get a vote during this year's WSOP PHoF nomination process as ayou have to be over 40 to qualify. Rast turns 40 in a few weeks and hopes to be one of the nominees for the 2022 PHoF.