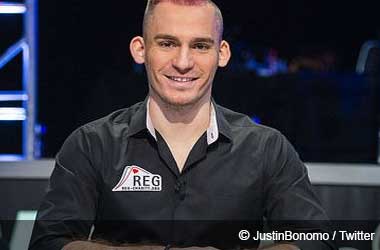 Justin Bonomo is officially the best high stakes poker player in the world as he currently sits in first place on the All Time Money List with $44.6 million in prize money.
Bonomo made his way to Jeju Island in South Korea to take part in the 2019 Triton Poker Series which is being billed as the biggest high stakes poker tournament in the world.
Bonomo wasted no time in making his mark at the Triton Poker Series as the American poker pro won the HKD 250,000 Short Deck Ante-Only Event.
The victory marks Bonomo's first live tournament cash in a short deck event. He topped a field of 65 entries, including 28 reentries for the top prize of HKD 4,600,000 ($586,114). This high stakes event featured a total prize pool of HKD 15,275,000 ($1,946,281).
Triton Poker
Bonomo Continues to Top All-Time Money List
Justin Bonomo got a lot of attention in 2018 when he knocked out Daniel Negreanu from the All Time Money list. Negreanu is widely considered the best poker player of this generation and had held on to the top spot on the All Time Money list for many years until Bonomo dethroned him.
Bonomo had a fantastic run in 2018 and earned a record-breaking $25 million in live poker tournaments. He has also had a good start to 2019 winning two major poker events before showing up at Triton and continuing his winning streak.
In an interview with Triton Poker, Bonomo said he was excited to win his first short deck event, despite lacking experience in this format. Given the number of experienced short deck poker players he had to compete with, this victory was very sweet for him and gives him a lot of confidence.
While Bonomo had a fun time at the table, he was also honest in admitting that this live-streamed event was quite stressful for him, considering that a lot of his followers and his friends and family were watching at home and he felt pressured to avoid making a huge mistake.
Final Day Action
Bonomo faced Malaysia's Yue Wei Hsiang at the final table after Sergey Lebedev of Russia exited the game in third place for HKD 2,140,000 ($272,672). At the start of the heads-up play against Hsiang, Bonomo had a 2:1 chip advantage.
The Malaysian pro tried to turn the tables but his efforts were cut short after Bonomo's ace-ten suited defeated his ace-queen. While he failed to clinch the top prize, it was still a huge payday for Hsiang as he took home the runner-up prize of HKD 3,300,000 ($420,473).