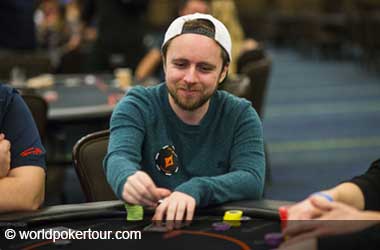 PokerStars committed an error in the recording of points for the Spring Championship of Online Poker (SCOOP) leaderboard which initially resulted in Patrick Leonard being listed as the top finisher. However, the British poker pro caught the mistake and tweeted about it to get clarity and said he didn't want to be an "undeserving winner".
Leonard pointed out that PokerStars may have erroneously added 30 points for his 13th place finish in a $1,050 event, when he should have been credited just 25 points for that particular performance, as per the SCOOP leaderboard points system.
PokerStars is running four leaderboards as part of the massive festival – each buy-in tier (Low, Medium, and High) has its own leaderboard, while an overall Player of the Year title is also up for grabs. Leonard was initially ahead in both the High and the overall series leaderboards before the mistake was discovered. Trailing him was Russian player "ZapahZamazki".
When Leonard divulged the apparent error on Twitter, PokerStars quickly conducted an investigation, and upon reviewing everything, the operator deducted 95 points from Leonard in the High leaderboard and subsequently, the British poker pro lost 100 points in the overall player of the year race. Meaning Leonard ended up not winning any of the leaderboards he originally topped.
"ZapahZamazki" took home both the High and overall player of the year titles.
Very sad update. After tweeting stars realised they didn't have a box ticked for the leaderboard. I rightfully lose 100 points (from earlier in the series) meaning Zapa wins both the overall and the high leaderboard. I /we/ everybody played very different based on the standings

— Patrick Leonard (@padspoker) April 29, 2021
Big Embarrassment For PokerStars
While the mistake was eventually fixed, it was a huge embarrassment for PokerStars not spotting the error much sooner. Leonard said everyone would have played very differently if points had been recorded accurately right from the start.
Errors like this also jeopardize the whole leaderboard competition. Had Leonard decided to just hide the truth and leave everything as it is, PokerStars would have crowned the wrong person, robbing the true winner of the prizes and honor he rightfully deserved.
To compensate for the huge disappointment, PokerStars still proceeded to award Leonard the $45,000 he would have won if the initial rankings were followed. Leonard said he would use the money for a good cause, but the damage has already been done.
PokerStars will have to learn from this mistake and be more careful in the future, especially when it comes to massive festivals such as SCOOP wherein the calculation of points is more prone to errors.
In 2019, the World Series of Poker (WSOP) also committed a similar mistake when it wrongfully declared Daniel Negreanu as Player of the Year. After verifying the results and points, the title ultimately went to Australia's Robert Campbell.