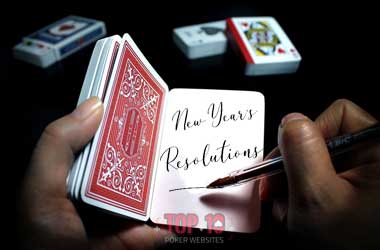 Summary
Phil Hellmuth wants to extend his WSOP bracelet record
Dan Cates, Josh Arieh, and Niall Farrell have all set personal goals for the year
Daniel Negreanu only wants to take down his Christmas tree from 2021
Making New Year's Resolutions has become a yearly tradition for many people from all walks of life, and the poker community is no exception.
As 2023 kicks off, some of pokers biggest names have compiled a list of things they'd like to change or accomplish over the course of the year.
Let's begin with the legends, Phil Hellmuth and Daniel Negreanu.
Phil Hellmuth and Daniel Negreanu
Hellmuth currently holds the record for most World Series of Poker (WSOP) bracelet wins with 16 but he isn't done yet! The Poker Brat will attempt to win three more bracelets this year and will also try to capture two World Poker Tour (WPT) titles. The Poker Brat has yet to win a WPT trophy throughout his career. Apart from that, Hellmuth also likes to get some good time with family and friends.
In my book #POSITIVITY (8 Life Tips), one of my tips is to write down your yearly goals and tape them to your bathroom mirror. Here are a few of the 2023 Goals that I will have taped to my bathroom mirror: Get good time with my family, get good time with my friends… win three WSOP bracelets and win two World Poker Tour tournaments.
The past two years have been great for Negreanu's poker career. In 2021, he finally put an end to his seven-year title drought when he won the $50K No-Limit Hold'em event at the PokerGO Cup for $700,000. In 2022, the GGPoker Ambassador won another major title, the Super High Roller Bowl, which came with a massive $3.3 million payout. He also closed out the year with $1.6 million in profits.
There's nothing left to prove for the Poker Hall of Famer career-wise and we totally understand if he only has one simple goal for 2023
My 2023 resolution is to take down my Christmas tree so that I can eliminate the hex when I'm all in," he tells us. "It's been up since November 2021!
Dan Cates, Josh Arieh and Niall Farrell
Dan Cates' 2023 resolutions are more about getting rid of bad habits and living healthy. One way to achieve that, according to him, is conquering any "excessive sexual desire". He also wants to play the fourth note on the flute and convince fellow pro Isaac Haxton of divine providence.
I have three new resolutions this new years. 1) Conquer any excessive sexual desire, which I believe has perniciously reduced healthy behavior in my self as well as the world. 2) I would like to play the 4th note on the flute 3) Convince @ikepoker of divine providence

— Daniel Cates 🇺🇸 🌎 (@junglemandan) January 3, 2023
Josh Arieh has achieved massive success as a poker pro, with 2021 being one of the biggest years of his career. He is a three-time WSOP champ and was named 2021 WSOP Player of the Year.
He seems content with what he has achieved so far professionally which explains why his 2023 goals are now more focused on building more meaningful relationships rather than getting richer. He is also getting married in 2024.
I have a couple goal. First and foremost, I turn 50 and am getting married in 2024; I am going to focus 2023 on getting in the best shape of my life. For the past four years, my life is really coming together. I'm proud and thankful for the relationships that have grown over this time, and I look forward to making more meaningful relationships and focusing less on money.
For Niall Farrell though, 2023 is an opportunity for him to be back in the poker spotlight. He has taken a step back from the game over the past few years to focus on his family but is keen on re-establishing himself in 2023.
I have a real [intention] of getting back in the conversation of top players. The wee man is off to nursery now, so no more excuses for not having time.