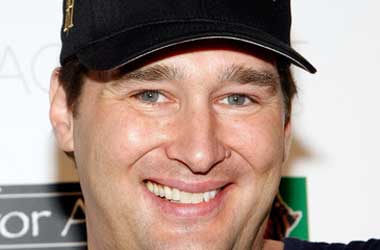 Summary
Hellmuth has been accused of angle shooting on the Hustler Live cash game show
He agreed to chop the pot and return $5K to his amateur opponent
The Poker Brat denied the angle shooting claims
After courting controversy yet again for his behavior at a recent live-streamed cash game session on Hustler Live, Phil Hellmuth has decided to make it up with the player he has wronged amid accusations of angle shooting.
Did Hellmuth Angle Shoot?
Hellmuth has become the subject of widespread criticism on social media this week after he allegedly used dirty tactics during a $100/$200 cash game on Hustler Live at the expense of his inexperienced opponent. In a clip shared on Twitter, the Poker Brat appeared to slide his cards face down forward during a hand with amateur player and Twitch poker streamer Slime.
This definitely looked like a fold @phil_hellmuth 🤮

Would love to hear some other thoughts? @GmanPoker @RealKidPoker @DougPolkVids pic.twitter.com/xpQb5pibOW

— Josh Duce (@JoshDuce) May 2, 2022
Slime assumed Hellmuth folded and went on to show his cards but as it turned out, Hellmuth was actually still involved in the hand, insisting he did not fold. Slime then agreed to give Hellmuth $5,000 which the Poker Brat described as a "good deal" for the Twitch streamer.
When the rest of the board was revealed, Slime would have gotten a full house and he should have won the $80K pot.
The incident quickly grabbed the headlines and sparked discussions on Hellmuth's unethical play, and the consensus was that it was a clear fold and that the 57-year-old should do the right thing and return Slime's money. Popular pros including Daniel Negreanu, Scott Seiver and Doug Polk also agreed that Hellmuth folded.
Hellmuth Offers to Chop the Pot But Denies Angle Shooting
Hellmuth agreed to give Slime's $5K back plus half of the pot, but he maintained he did not angle shoot anybody. The 16-time World Series of Poker (WSOP) bracelet winner explained his side of the story, saying he only threw his cards to Tom Dwan so he could have a look. That part was not captured by the camera.
Hellmuth said things happened so quickly and he only did what he thought was fair.
Slime wasn't immediately available for a statement on the incident, but he later took to Twitter to say he didn't think Hellmuth angled, but he also wouldn't mind accepting his offer.
sorry was locked out of twitter for 12 hours

i talk about the whole thing in depth on my show comin out in a few days when it's probably cold news but @phil_hellmuth it's all good i didn't think you angled and still don't but if you wanna chop that pot let's make a deal 😉

— journalist (@slime_machine) May 3, 2022
Seems like Hellmuth has just given his critics another reason to hate on him. He has always been criticized for his behavior at the tables, apart from repeatedly claiming that he is poker's GOAT.