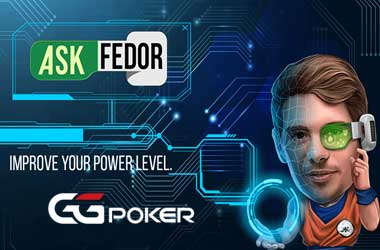 Summary
Ask Fedor is now available on both desktop and mobile
The tool comes with a minimum subscription fee of $30
The tool was created to help bridge the skill gap
GGPoker has just launched a new coaching tool that will allow players to take their game to the next level and crush the tables like a pro.
The operator has yet to release the full details, but what we know so far is that GGPoker ambassador Fedor Holz had a hand in the development of the tool. Hence, it was aptly named "Ask Fedor".
What is Ask Fedor?
Built using artificial intelligence, the tool is embedded right into the client's hand history system. Once the tool is enabled, it analyzes the player's performance in each hand and provides feedback and advice right after the hand was played. The hand analysis is carried out using an innovative deep-learning system that leans towards the game theory optimal (GTO) strategy.
GGPoker fell short of calling it a GTO tool, but we can assume it works just like that. Using the tool is fairly easy – you just need to click the "Ask Fedor" button at the table after the hand. The tool will then give you a rating for your performance and at the same time identify areas for improvement with advice on how to better approach similar scenarios in the future.
"Ask Fedor" will serve as your companion in your journey to becoming a better player, but just like any other product that promises great results and long-term benefits, the new tool doesn't come without a price.
You will need to fork out at least $30 per month to be able to use the tool. The $30 basic subscription fee comes with 30 Asks, but you can upgrade it to 120 asks for $100 a month, or you can go for the Premium package and pay $200 monthly where you'll enjoy unlimited Asks, plus analysis and advice at VIP cash games.
On your first month, GGPoker will slash the actual fee by 50%. The tool can be accessed via the desktop and mobile app.
Bridging the Skill Gap
Fedor Holz who is an inspiration to many players as well as being Germany's number 1 poker player and a two-time World Series of Poker (WSOP) bracelet winner with more than $32.7 million in total live earnings, teased the new tool back in November 2021 describing it as a totally different beast than any other tools on the market.
In launching the tool, GGPoker said its main goal is to help bridge the skill gap among players, promote growth for the game, as well as educate and support the poker community.