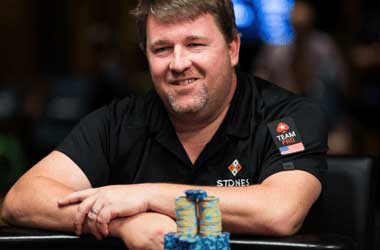 Chris Moneymaker needs no introduction to the poker community as his win at the 2003 WSOP Main Event is credited for sparking the global poker boom.
Since then, Moneymaker hasn't had anywhere near the success he had when he won $2.5 million at the 2003 WSOP but he has still been a big name on the poker circuit.
Chris Moneymaker has not had a lot of success on the live poker circuit in recent years. The poker pro decided to spend some time playing online poker and took part in the New Jersey SCOOP tournament which boasted of a guaranteed prize pool of $1.3 million.
The WSOP Main Event winner had a good run at a couple of SCOOP events and finished in first place. Moneymaker won events 33-H and 34-H taking home $5,445.55 and $2,631.98 in prize money. Now that's not a lot of money for someone like Moneymaker but his online poker success spurred him on and he ended up finishing in 2nd place at event 35-H taking home $2,485.27 and finishing in 4th place at event 36-H taking home $1,113.86 plus an additional $947.44 in bounties.
Poker Central
The 2018 NJSCOOP is being billed as the richest tournament in its history and poker players from all over wanted to get a piece of the $1.3 million guaranteed prize pool. To make things even more interesting, PokerStars has announced that two Platinum Passes will be given away at NJSCOOP.
Each platinum pass is valued at $30,000 and includes the buy-in to the 2019 PSPC that will take place in the Bahamas. The two passes will be given away to the winners of the Low and High Stake Main Events.
Moneymaker Backs Interstate Liquidity
The interstate online poker liquidity agreement between New Jersey, Nevada and Delaware came into effect from May 1. Moneymaker backs the interstate liquidity program and believes that it is good for the game. He also expects New York to lift the ban on online poker and become the 5th state in the country to legalize online poker.
In a statement, Moneymaker said
New York is really close; if we picked up New York, then I think it'll only be a matter of time. I can definitely see it going back to before when we could play with the international markets. It's kind of slow moving, but it's all positive and moving in the right direction