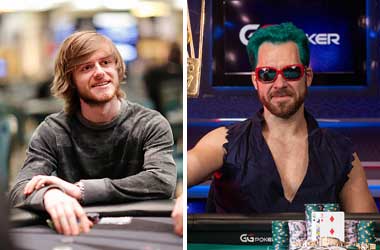 Summary
Carrel wants to do stand-up comedy with Dan Cates
Cates agrees, but it remains to be seen whether the comedy show will actually happen
Some poker fans think neither of them is funny
We don't usually see poker players do stand-up comedy but two popular pros are willing to take on the challenge.
It all started with a tweet from Charlie Carrel who asked the Twitter community if they'd like to see him get involved in a stand-up comedy challenge with no other than Dan "Jungleman" Cates.
Both players will each perform a 15-minute stand-up comedy and whoever receives the most "lols" wins.
Yes is the only logical answer

— Daniel Cates 🇺🇸 🌎 (@junglemandan) January 4, 2023
Do Carrel and Cates Have A Funny Bone?
Carrel is a familiar face in the high-roller circuit and has achieved considerable success in his high-stakes pursuits. His biggest live tournament score came in 2019 when he won the £50K No-Limit Hold'em – 8 Handed at the Triton Poker Super High Roller Series in London for £1,321,000 ($1,601,853).
Around that time, Doug Polk published a video of Carrel being "destroyed" by Patrik Antonius in a high-stakes game. The English pro, sarcastically described by Polk in the video as a "young millionaire and renowned philanthropist", was not happy with the content and threatened to sue Polk for defamation.
Carrel's reaction to Polk's video somehow made him look like an overly sensitive guy who lacks a sense of humor. It's not surprising at all that some poker fans aren't convinced Carrel could actually become "funny".
Cates agreed to Carrel's challenge but will he be up to the task? Some members of the poker community think the American poker pro, considered one of the world's best heads-up No-Limit Hold'em players, won't be able to pull it off, just like Carrel, as neither of them is funny.
But there are also those who would pick Cates over Carrel, with one commenter saying he could be the male version of the popular TV comedy character Wednesday Addams.
Poker Pros Who Love Stand-Up Comedy
A number of poker pros also tried stand-up comedy before, including Joe Stapleton who previously performed at The Comedy Store in Los Angeles where comedy legends Bill Hick and Eddie Murphy became popular.
Four-time WSOP bracelet winner Tom Schneider also did stand-up comedy in the past with his daughter. He performed in front of 300 people at Tempe Improv in his hometown Phoenix. Schneider admitted that while it was something he always wanted to do, it was more frightening than he expected.