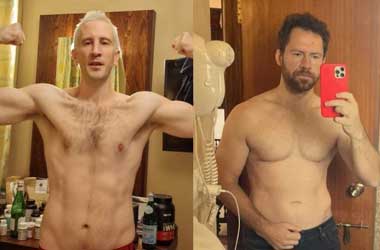 Summary
Both players are currently involved in a fitness prop bet for $150,000
Under the terms, Cates must achieve 12 percent body fat, while Grospellier must hit 14 percent
The challenge ends in February 2023
Yet another crazy poker prop bet has been announced, this time between two of the world's best poker players, Dan "Jungleman" Cates and Bertrand "ElkY" Grospellier.
The challenge involves achieving a certain body fat percentage for a period of six months, and both players have been working on that goal since August.
The Challenge
Cates began at 18 percent body fat, which means he must get to 12 percent by February. Grospellier started a bit higher at 24.5 percent and he needs to achieve 14 percent body fat if he is to win the challenge. At stake is $150,000 – whoever wins receives $150K from the other player. If both of them end up losing or hitting their targets, nobody gets the money.
Cates and Grospellier have been doing great so far, losing 17 lbs and 20 lbs respectively. While the $150K prize boosts their motivation to get the job done, there are bigger reasons why both players decided to do it.
More than Just Money
For Dan Cates who back in 2020 hinted at taking a break from poker, the main goal is to get in shape and become the "best version" of himself. The American poker pro, who recently made history for his back-to-back win in the World Series of Poker (WSOP) Poker Players Championship, said achieving a certain body fat percentage is something he has never done before. He added he wants to inspire fellow members of the poker community to lead a healthy life.
As to why he chose to do the challenge with Grospellier, Cates said he sees him as an "honorable" guy, and his lack of athletic background somehow gives him the chance to win the prop bet.
Grospellier is all in for anything that aims to inspire others which is why doing the challenge with a motivated person like Cates was a no-brainer for him. This isn't the first time that the two engaged in similar challenges, as they also got involved in a previous prop bet on who can do the longest plank, run the fastest uphill mile, and do the most pushups.
Grospellier's fitness journey won't end in February as he plans to go lower and maintain 12 percent body fat for the rest of his life.