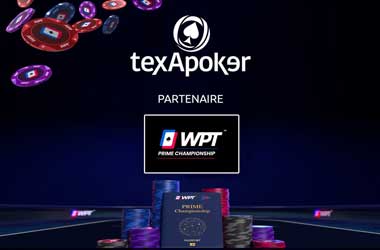 Summary
WPT will host WPT Prime events in France and Italy in 2023 in partnership with Texapoker
The two-year partnership will enable the WPT to boost its brand presence in Western Europe
Texapoker was founded in 2008 and has existing partnerships with 15 French poker rooms
The World Poker Tour (WPT) is joining forces with French live poker tournament operator Texapoker to host a new series of WPT live events in France and other jurisdictions in Western Europe.
The new partnership has been announced as the WPT holds its final events of 2022, culminating in the record-breaking WPT World Championship at Wynn Las Vegas.
WPT-Texapoker Partnership
The fresh alliance with Texapoker will enable the WPT to host a new series of WPT Prime events in 2023 which will initially be held in France and Italy.
The first of three stops, WPT Prime Paris, will take place from January 22 to February 5, 2023, at Club Circus Paris, France. It will be followed by WPT Prime Sanremo which will run from June 5-11, 2023, at Casino di Sanremo in Sanremo, Italy. The WPT will then head to Pasino Grand Aix-en-Provence, France for the third stop which takes place from October 9-15, 2023.
Apart from the regular prize pools on offer, real money poker players at WPT Prime events also get the chance to win a ticket to the 2023 World Championship. Texapoker's online partner PMU.fr. will also be hosting satellites to various WPT live events around the world.
Bigger Opportunities for WPT
As the WPT forms a new partnership with Texapoker, it also reconnects with a former partner, Apo Chantzis, who has worked with the tour numerous times in the past. Chantzis founded Texapoker in 2008 and currently sits as chairman and CEO of the company.
The alliance will open the door to more opportunities for the WPT particularly in France, given Texapoker's status in the country. Over the last 14 years, the company has made a name for itself, becoming one of the biggest and most prominent live poker tour operators in France.
It has established partnerships with 15 poker rooms, allowing it to organize dozens of festivals and hundreds of tournaments around the country each year. Texapoker's two-year deal with the WPT gives the latter access to such a huge network, providing an opportunity to boost the WPT brand in France.
WPT is about to cap off its 20th-anniversary season with flying colors, and its partnership with Texapoker keeps it right on track as it welcomes 2023, according to WPT CEO Adam Pliska.