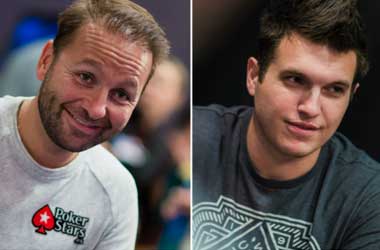 Given his long experience and mastery of heads-up no-limit hold'em, Doug Polk clearly has the advantage in his ongoing heads-up grudge match against Daniel Negreanu, but Negreanu is not allowing that to distract his gameplay.
After being behind by $260,000 during their first two online sessions, Negreanu bounced back, cutting Polk's lead by $87,000.
Following their latest bout which took place over the weekend, the Canadian poker pro has effectively wiped out his massive deficit, and now he is slightly ahead by $25,916.
Polk was and still is a strong favorite to win the match, but projections could change, as the latest results indicate it could be a tight finish. With both players completing 1,737 hands across five sessions, the battle is still very much in the early stages, but it's interesting how the underdog in the game is giving his opponent a run for his money.
Erasing a huge deficit in a flash is nothing short of amazing, not to mention you're playing against one of poker's best heads-up players. Polk's fans are probably sweating right now, but there's still a long way to go until the 12,500 or most likely 25,000 hands are completed.
Session Highlights
While luck was a huge factor in Negreanu's latest victory, it's also worth-noting that the Poker Hall of Famer managed to maximize the value out of his strong hands and lucky cards. He came up with the right bet sizes which worked to his advantage, resulting in him capturing bigger pots.
Twice Negreanu rivered a better straight, and subsequently got pocket aces twice, resulting in him accumulating $206,994 in profit, his first six-figure score since the match began on November 4.
The six-time World Series of Poker bracelet winner took down almost all of the huge pots, sucking out on the river twice. Polk was in a quite similar situation when he dominated the first two online sessions. Will the "semi-retired" player manage to turn things around? We will wait and see during their next bout which is scheduled to take place on Monday.
Unfortunate Spots
Contrary to the usually harsh persona he shows on social media especially when being on the offensive, Polk admitted defeat via a rather subtle tweet. He said he had a number of unfortunate spots, and acknowledged that Negreanu performed consistently well throughout the session. He also hinted at trading his truck if the challenge continues to go downhill for him.
Session 5 Result: -$206,994.59 365 hands

Total: -$25,916.87 1,737 hands

Had some unfortunate spots today. What you gonna do. Looking forward to playing some more next week (we will likely be upping the volume as well)

— Doug "Truck Driver" Polk (@DougPolkVids) November 14, 2020