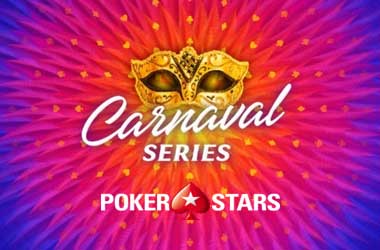 Players from France, Portugal and Spain have responded very well to the recently held PokerStars big Carnaval Series and created a new record.
Thousands of players from these three countries joined the series to battle for the €10 million in the guaranteed prize pool. However, due to the great turnout, the guaranteed prize pool went a lot higher and a total of €11,233,484 was up for grabs.
The Carnaval series began on February 3 and ended on February 18. There were 166 events in total and it attracted a lot of players from the three countries.
The strong surge in player registrations enabled PokerStars to set new records as the online poker giant confirmed that it has now offered more than €75 million since the shared liquidity markets between three countries started back in January 2018.
In a statement, Severin Rasset, the Director of Poker Innovation and Operations said
To hit €75 million awarded in all of our shared liquidity series is an amazing achievement and we'd like to thank all the players in Southern Europe who have joined us at the felt over the past 13 months. Our Southern European series have been really well received and it's great to see Carnaval carrying on this trend.
One of the major highlights of the series was when one of the events set a new record. History was made when the highest ever attendance for a €30 buy-in tournament for Southern Europe was recorded. A total of 3,760 participants signed up for this event which showed just how popular the 'PokerStars' brand was in Southern Europe.
Another big event for the series was the Sunday Warm-Up. The event had a €50 buy-in and promised a guaranteed €225,000 in its prize pool. More than 5,000 people signed up to battle it out in a long draw out event. By the time it ended, Spain's "Vasudeva27" emerged as the winner and won €30,000.
The biggest event for the series was its Main Event. It had a €250 buy-in and came with a guaranteed €1 million prize pool. The Main Event saw a total of 3,905 players registrations and the winner was "MEGACHIPLEADER1" who won €123,376.
More to Come from PokerStars
With the Carnaval over, Southern European players will be waiting for this month's big event, which is the Spring Championship Of Online Poker (SCOOP). The 2019 edition will have €10 million in guaranteed prize pools and a total of 120 events.
For those who can't wait for March 24 and 25, there will be a SCOOP 2019 Equinox event. The buy-in will be €250 but it is worth it, since the event has a €1 million guaranteed prize pool.