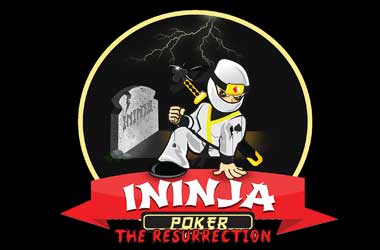 It was just a year ago that Isaac "Rungood" Tucker took to Twitter and announced that the iNinja Poker was officially over and done with. iNinja Poker was a unique tour with a low price point and ninja-themed branding that had its own niche of poker players across the US.
During the summer of 2016, they started in Minnesota before placing roots in Iowa.
Their iNinja World Championship in Las Vegas saw a field of 1,140 players. The brand was catching on and the outlook was good but then things changed all of a sudden.
iNinja Poker started having issues due to financial problems and this became evident to the poker community. A battle between ownership and some of the players added to the problems. Tucker then announced that he had been given some financial assistance and that iNinja was back on track. That obviously wasn't the case as evidenced by Tucker's 2017 Twitter announcement. The brand went down and no one expected to hear of iNinja again.
New Owners Re-launch iNinja
iNinja is making a return under new ownership. Next Level Poker, which is headed by poker pro Chris Wallace, recently announced that they have purchased the brand from Tucker and will be bringing it back into operation.
In a statement, Wallace said
The excitement generated by iNinja was incredible. I have never seen a tour grow so quickly and I have never seen people have so much fun in a poker tournament. When Isaac approached us about taking over the tour it was clear that he wanted it to go to a group of people who could bring it back in a big way and we are going to work hard to make that happen.
Because of iNinja Poker's troubled past, Wallace went out of his way to mention the new levels of integrity and transparency that the new ownership group will adhere to. He specifically mentioned that they would never handle player funds, they won't take funds out of prize pools, and they will offer reasonable rakes while paying their staff fairly and on time. Other topics that Wallace touched on were their commitment to honoring guarantees and operating under TDA rules.
There's no doubt that iNinja has a lot of work to do if they plan on getting a big enough share of the small Midwest market. With the WSOP Circuit, the Heartland Poker Tour, and the Mid-States Poker Tour all fighting for a piece of it, iNinja's new ownership will need to prove that the brand is stable and that past troubles will not crop up in the future.