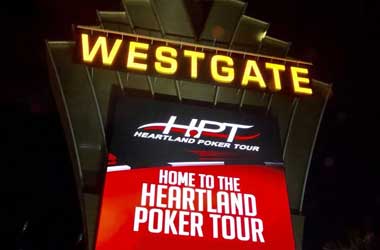 The Heartland Poker Tour (HPO) has not made a stop in Las Vegas since 2014 and its entry into Sin City in 2018 did not get a lot of attention. HPO teamed up with Westgate Las Vegas Resort & Casino to launch its HPO Westgate stop in April.
HPO Westgate did not draw a massive crowd and ended up with just 329 player registrations.
The final table took place on April 9 and players had to battle it out for the final prize. However players quickly noticed that something was amiss with regards to the prize pool and the fake guarantee advertised for HPO Westgate.
If you straight up read the advertising, you would think that the guaranteed prize pool was fixed at $500k but if you read the fine print, you would discover a clause which read 'No guarantees provided if less than 300 entries'
What this meant was that if there were 300 entries, the organizers would have to pump in around $60,000 from the rake an additional $5,000 in cash. The breakdown of the buy-in amount showed that $1440 from each buy-in would go to the prize pool. So tournament organizers needed 347 entries to match the $500k guarantee and collect full rake and fees.
If the total registrations were between 303 and 347, then tournament organizers would have to pay a reduced rake to the players who won at the event. Tournament organizers found that player registrations were less than their desired amount and decided to use their sportsbook to advertise and tell players they could buy-in at half the price.
Players Unhappy With HPO Westgate Fiasco
When players who had paid the full buy-in amount questioned tournament organizers on the half price buy-in, they were told it was a promotional offer. This upset many players who took to social media to voice their anger and disappointment.
HPO denied playing any part in luring players to the event with a half price buy-in and placed the blame entirely on Westgate Casino. Todd Witteles from Poker Fraud Alert stated that Westgate had engaged in shady practices but there was very little that poker players could do about it.
In a statement, Witteles said
Casinos do have a right to pay the buy-ins for players in tournaments. Provided the buy-ins really go into the prize pool, then the casino can foot all or some of the bill for selected players in the tournament. Unfortunately, I don't think there are many laws in Nevada's gaming statutes governing tournament guarantees.