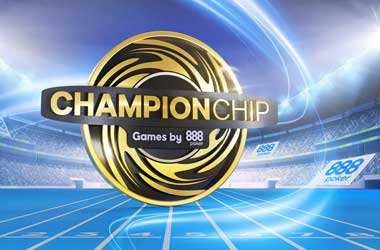 Summary
The ChampionChip Series series features more than $500K in guarantees
A total of 31 events will take place and players can enter for as low as $1
The highlight is a $60 buy-in Main Event which has a $200K guarantee
The popular ChampionChip Series is back on 888poker with the action getting underway on August 28. The festival, designed for low-stakes players, offers over $500,000 in guarantees and takes place until September 5.
The latest edition of the ChampionChip Series features a total of 25 numbered athletic-themed tournaments, with six extra events also added to the schedule which starts Aug 28.
As usual, the festival offers a lot of value to players, giving them the opportunity to turn their tiny investments into huge winnings. For instance, one of the events on the schedule, Event #03 – High Jump R&A costs just $1.00 to enter but awards $2,000 in guarantees.
Players may also take a shot at two "Made to Amaze" games where they only need to spend $5 for a chance to win a share of $10,000 in guaranteed prizes. While these events are not numbered, they still offer great value and still come with a ChampionChip badge. Both events are scheduled for August 28 and September 4.
Almost $85,000 will be up for grabs on the opening day alone during which six events will take place, including the Opening Ceremony, Sailing, as well as three unnumbered games (Triple Threat and Made to Amaze). The majority of the poker games have guarantees ranging from $10,000 to $30,000, meaning players can find a big-value event that fits their bankroll.
Main Event Guarantees $200K
The series is headlined by the Main Event, the biggest tournament on the schedule that features a buy-in of $60 and $200,000 in guarantees. The tournament has multiple flights running from September 1-5. The final table will take place on September 6.
Don't forget that the tournament also has a micro and mini version with buy-ins of $5.50 and $16.50 respectively. The Micro Main Event will give away $15,000 in guaranteed prizes, while players will compete for $20,000 in guarantees in the Mini edition. Both tournaments will run on September 4.
The ChampionChip Series is now in its sixth year, having launched in 2016. In 2021, the festival featured more than 700,000 in guarantees, $500,000 of that went to the Main Event. The tournament was won by Russia's "kuzya174" for $60,000.
Check out the 888poker website for the full schedule of the 2022 ChampionChip Series as well as other poker tournaments.