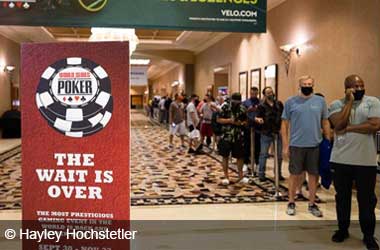 The poker community in general are pretty happy at the World Series of Poker (WSOP) is taking place in 2021. The biggest live poker tournament in the world started on September 30 at the Rio, Las Vegas and will conclude on Nov 23.
The WSOP cancelled the 2020 WSOP due to the COVID-19 pandemic and postponed the 2021 WSOP from May-June to Sep-Nov due to on-going concerns over the pandemic.
The WSOP is close to completing one week of action and there have been a few complaints circulating on social media and on WhatsApp poker groups.
While registration lines at the WSOP during the first week tend to be very long, things are a lot more complicated at the 2021 WSOP due to the mandatory vaccination requirement. The WSOP has asked all players to show proof of being fully vaccinated, 14 days prior to their in-person verification.
Players were asked to download the clear health app, register themselves and then provide proof of vaccination through the app at the WSOP registration counters. Hundreds of players, from overseas ran into problems in the vaccination line, because they did not get the green verification confirmation on the clear health pass app.
As a result, there were huge lines in the vaccination queue as players had to get their verified status and once again enter the queue. Once they finished the vaccination verification process, they had to stand in another long registration queue. A lot of foreign players expressed their frustrations after spending hours in both queues.
Poor Food, Costly Prices
After waiting hours in the registration queues, a lot of players were also surprised at how costly it was to get a regular meal inside the Rio. Apart from paying for overpriced water (it is only free when you sit at the WSOP tables), a regular hotdog costs $12 and a burger and a soda is over $15. To top it off, the food doesn't taste that good and players feel that they are being ripped off.
A lot of players have griped about the costly food at the Rio and many of them have been forced to leave the Rio to go find food elsewhere.
Overall player feedback at the 2021 WSOP has been good, given the fact that the WSOP in the USA is taking place in difficult circumstances.