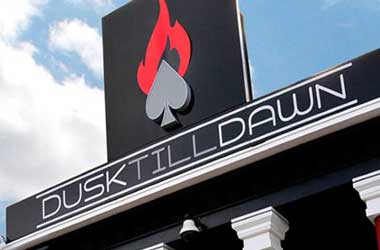 Dusk Till Dawn has one of the most popular poker rooms in the United Kingdom (UK). Dusk Till Dawn closed like all UK casinos in March 2020 due to the COVID-19 lockdown. While other UK poker rooms opened their doors, Dusk Till Dawn owner, Rob Yong announced that Dusk Till Dawn would not be opening.
Yong wanted to be extra precautious and only open Dusk Till Dawn until he was certain he could provide a safe and secure poker experience to players.
UK players will be happy to know that Dusk Till Dawn has finally reopened its poker room.
Yong who is very active on Twitter received numerous requests during the last few months from UK poker players asking him to open up Dusk Till Dawn. Yong confirmed in August that the plan was to open up during the fourth quarter of 2021 and he kept his promise, opening up on Oct 1 after an 18 month closure.
Dusk Till Dawn will open Friday 1st Oct

Link : https://t.co/zsDZsDVgfP

This will be soft opening as @DTD_Cardroom need 2 recruit/train,MTTs capped at 135 entries at start. If want 2 reserve seat https://t.co/3RaQWAWpAh

Feel free 2 RT 2 other members.Thx for patience.Rob 👍 pic.twitter.com/r8Wiy5Co05

— Rob Yong (@rob_yong_) September 29, 2021
Apart from COVID-19 and player safety, Yong also delayed the opening of Dusk Till Dawn because some of his key staff had moved on after the 18 month closure. There were also numerous repairs to make which included air conditioning and an internet issue. Once Yong got everything in order, he announced that Dusk Till Dawn will initially open only four days a week.
Poker Tournaments Four Days A Week
Dusk Till Dawn would only run four days a week from Thursday to Sunday. There will be a tournament taking place on each of these days. Yong is also capping the number of players at each tournament as he does not want to throw open his doors fully to the poker community as he wants to start small, see how it all goes before going back to normal.
Things started on October 1 with a Bounty Hunter tournament that came with a £60 buy-in and saw 1818 player registrations. On October 2, the Super50 commenced and also received a good response with 180 player registrations.
Dusk Till Dawn also has a number of exciting events planned for this weekend as well as with partypoker in the future. The Turbo with a £33+£7 buy-in runs on Oct 7, the Bounty Hunter runs on Oct 8 with a £50+£10 buy-in. The weekend will see the Super50 on Oct 8 with a £50+£10 buy-in and a Double Chance on Oct 10 with a £50+£10 buy-in.