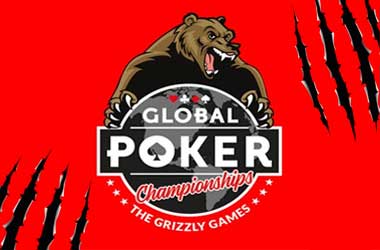 Global Poker has made massive strides in the online poker market in the last 12 months and has become one of the top 10 online poker websites in the world, surprising many of its competitors. The two main reasons behind Global Poker's success is because the poker operator has launched successful online poker tournaments such as Eagle Cup which had SC$1.25 million in guaranteed prize money.
Global Poker uses a sweepstake model and has its own virtual currency. Poker players are expected to buy gold coins and in return get $weeps Cash which they can use to buy-in to Global Poker events. This $weeps Cash can be cashed via PayPal and real money currency can then be withdrawn. This model has allowed U.S. poker players to participate and this has boosted the popularity of Global Poker.
Grizzly Games is the latest online poker tournament from Global Poker. The online tournament is the second instalment of the Global Poker Championships and launched on Jan 15. Global Poker expected Grizzly Games to outperform the Eagle Cup which was a massive success and it looks like Global Poker was right on the money.
The opening event of the Grizzly Games was the SC$5,000 free roll event and over 5,000 players signed up. Grizzly Games has over 200 online events lined up with buy-ins ranging from low to medium to high to enable poker players from all walks of life to participate. The guaranteed prize pools start from SC$5,000 and go all the way up to SC$25,000. Online poker player who goes by the name of Wagawaga won the opening event and took home SC$14,000 in prize money along with the first Global Poker Championship package. To find out more information on what the package consists of, please visit the Global Poker website.
Grizzly Games will wind-up on Feb 11 after hosting three Main Events. The first main event has a low stakes buy-in of SC$22 and a guaranteed prize pool of SC$10,000; the second main event has a medium stakes buy-in of SC$55 and a guaranteed prize pool of SC$15,000 while the third main event has a high stakes buy-in of SC$218 and a guaranteed prize pool of SC$50,000. Tournament organizers expect a strong response to all three main events which will see the total guaranteed prize money go up. The Main Event winners will also receive a special Global Poker Championship package.