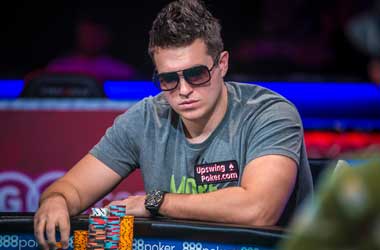 Doug Polk is one of the most popular poker players on the circuit due to a number of reasons.
The Californian poker pro has done very well on the poker circuit and over the last six years has accumulated $9,454,008 in career prize money.
Polk also uses social media extensively to build his brand and address multiple issues in the global poker industry which has resulted in him becoming widely popular with the poker community.
Polk's started a YouTube channel in 2016 and his channel became a favorite with poker fans as Polk used his channel to stream multiple tournaments, release videos addressing controversial issues in poker and share his views on a range of topics.
His YouTube channel now has over 165,000 subscribers and continues to grow as Polk puts out great content on a regular basis.
Doug Polk Crypto
Polk decided to launch a new YouTube channel called 'Doug Polk Crypto' that targets the cryptocurrency industry which is witnessing exponential growth. Bitcoin which is the most popular cryptocurrency has been on everyone's lips for months now, with its meteoric rise. Bitcoin has suffered of late and the cryptocurrency has seen a downward trend falling from a high that passed $19,000 in December to falling below $11,000 in early Jan.
The online gambling industry was one of the first industries to embrace the cryptocurrency market and numerous online gambling websites accept cryptocurrency payments. This is one of the reasons why Polk's new channel has grown rapidly in the last few weeks and has seen over 95,000 people subscribe.
The rapid growth and interest in the new cryptocurrency channel has surprised Polk as the new channel already has more than half of the audience of his poker channel.
Polk's description for his cryptocurrency YouTube channel makes it clear what he intends to address. The description says
Cryptocurrency news and entertainment. I cover the latest events in Bitcoin, Ethereum, Ripple, Litecoin, and various other projects in the crypto space. I am not a financial adviser, please invest responsibly and do your research
Polk's direction in his videos is to protect his viewers from what he views as 'scammers'. This includes streamers, channel owners, and some cryptocurrencies that are not exactly on the up-and- up. One of Polk's noticeable successes is when he warned against Bitconnect, a lending and exchange platform for cryptocurrencies. The company recently shut down its site after receiving a regulator warning. It is obvious from Polk's content that he knows what he is talking about. Poker pros interested in learning or investing in Cryptocurrencies will find Doug Polk Crypto of great benefit.