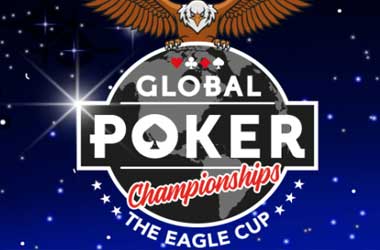 Online poker has continued to grow in leaps and bounds across the world as gaming operators have continued to outdo each other by offering lucrative promotions, launching multi-million dollar tournaments and allow poker players to make a living from the comfort of their homes.
Global Poker is one of those operators that has continued to bring excitement to the online poker world. The company recently announced that it is launching its biggest promotion till date with the introduction of the Global Poker Championships Eagle Cup which starts on October 1 and will finish on October 30.
This online poker festival will have more than 150 exciting poker events and have $1.25 million in guaranteed prize money. Poker players in the United States will also be allowed to participate in the online tournament.
The first event will take place on October 1 and will be the SC$10,000 (Sweeps Cash) freeroll. Online poker players must register quickly for this free buy-in as the event is being capped at 5,000 players. There will be a total of 40 Sweeps Cash events during the month long poker festival and it will be split into three ties of low-medium- high stake event. Global Poker is also splitting events into four buy-in categories to enable as many poker players as possible to be involved in this mega online tournament.
The highlight of the Global Poker Championships Eagle Cup will be the SC$25,000 Guaranteed Main Event which has two freerolls. The company is scheduling the Main Event in three versions with different buy-ins. The high stakes Main Event has a buy-in of SC$110, while the medium version has a SC$22 buy-in and the low stakes version has a SC$11 buy-in. All three versions of the Main Event will take place on October 29.
Online poker players will have a lot of choice when it comes to poker play at the Global Poker Championships Eagle Cup. Some of the poker events on offer will be Omaha and Texas Hold'em which feature formats such as 6-max, 4-max, Big Ante, Deepstack, Full Ring, Rebuy and Turbo. There will also be Pot Limit, Fixed Limit and No Limit events taking place throughout the month.
The Eagle Cup will also have a leaderboard which will see the eventual winner receive an additional $15,000. The overall leaderboard winner will also receive a live tournament package valued at $5,000 which includes travel, accommodation and tournament buy-ins.